On The Inlet – Pig Out and Feed The Big Groper Fish!
If you're wondering what the hell I just said, a Groper is a very large fish! I'm serious for once! It's definitely not what you were thinking! Anyway, after checking out the Undara Lava Tubes, my next mission was to road test the On The Inlet Seafood Restaurant in Port Douglas, also in Far North Queensland, Australia.
It was also shortlisted as a Hooroo Top 40 Secret Spot and I was asked to try out the food there.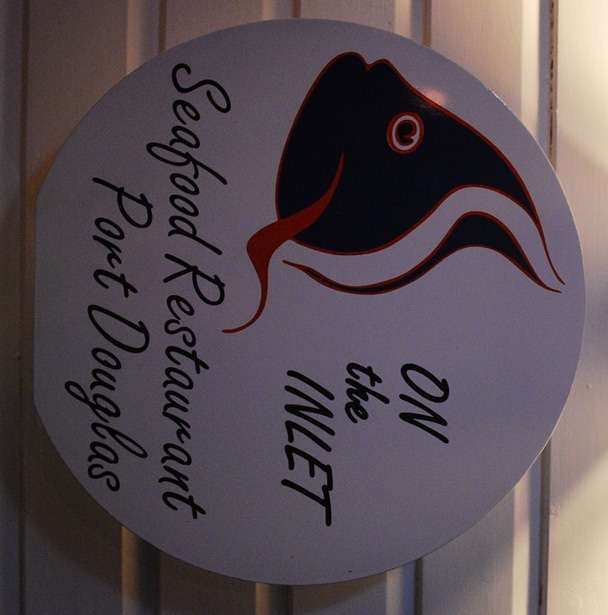 Luckily, On The Inlet doesn't sell Grilled Crap , Octopus Lollipops, or Sea Cucumber Guts. Otherwise, I would have to rethink the opportunity of trying out their large seafood menu.
On The Inlet is actually located on an inlet with views of the water. It's nice to come here to relax with a cold beer on a hot and humid afternoon or evening. Especially if you have somehow experimented with Finger Fishing!
Here is a night time scene from my position at the bar: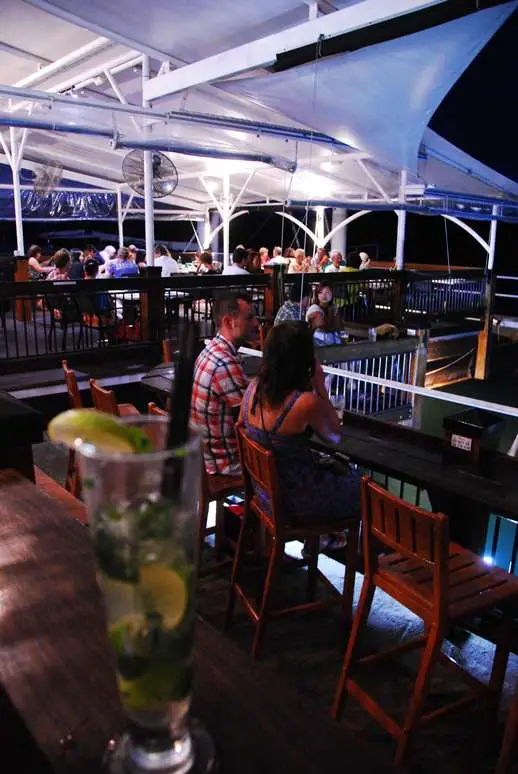 What's Unusual about On The Inlet?
Well, it's not the actual restaurant itself, but more so one of its popular residents – one of the fishy kind. On The Inlet has a resident fish called 'George the Groper' (George even has his on Facebook Page!) who visits regularly in the afternoon at approximately 5 p.m. His dinner time! He must be the luckiest fish in the world because he knows he has food on tap at 5p.m everyday.
And he probably needs to go on a diet, because this massive fish weighs in at an insane 250 kilograms (about 530 pounds)! I was struggling to haul in a 20 kg yellowfin tuna in South Africa, so I would have arms like Popeye if I attempted to haul George in on a line. Here is a photo of George below!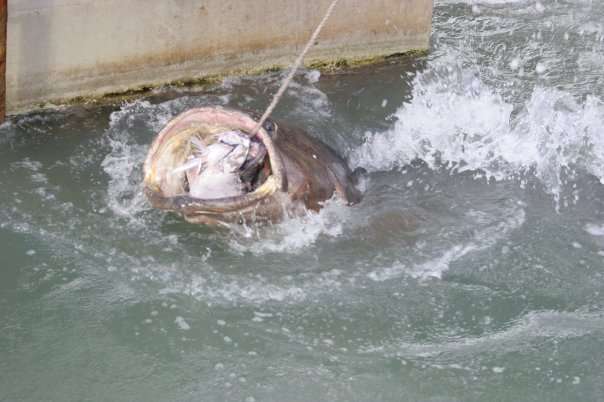 Unfortunately, I didn't arrive in Port Douglas in time to witness George The Groper myself.  George's favourite delicacy is a tuna frame which he tends to scoff down in a few seconds. He sounds like a showman to me as he likes to exhibit his feeding habits to the crowd every afternoon! He is very lucky he doesn't live anywhere near the huge number of hooks hanging around the Galata Bridge!
However, once you have finished checking out George, it's time for some serious eating.
Now if you are a seafood fan, I can tell you categorically that the best fish I have ever tasted is Coral Trout. I haven't come across anything else even close. It's very delicate flesh and once you have tried it once, you will go back for more. Check out a picture of the Coral Trout I scoffed down – I'm pretty sure this isn't George The Groper that has been disguised as Coral Trout!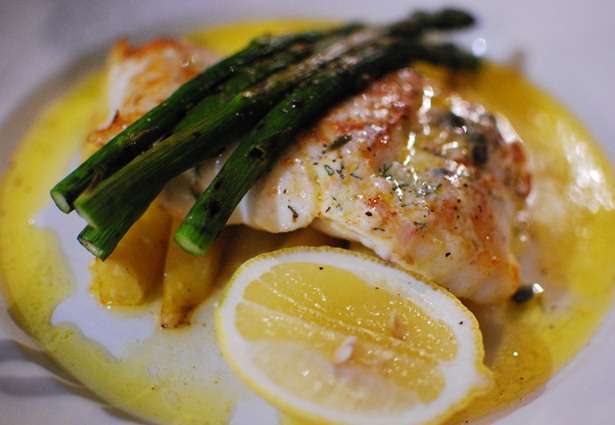 Otherwise if seafood is not your thing, just go the carnivore option and munch down 450 grams of Black Angus Beef that will take you a week to digest.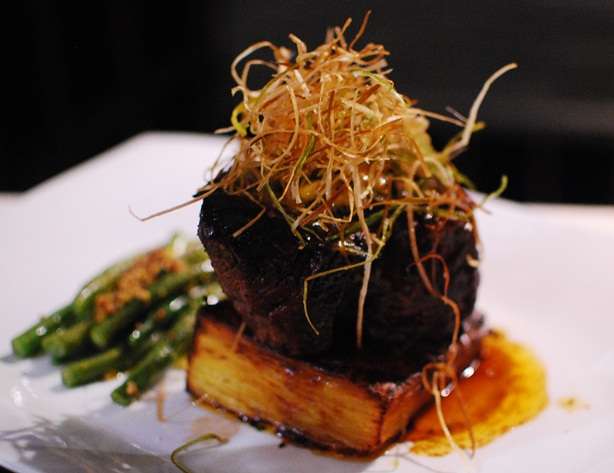 Ironically, I lived in Far North Queensland all of my life and I had never been to On The Inlet ever! It's amazing that you never go to the places that are 'just down the road'.
So, is the On The Inlet Seafood Restaurant worthy of a Hooroo Top 40 Secret Spot? I'd have to say yes! The fish I had was excellent, and this was backed up by an awesome entree of calamari, haloumi and ciabatta. And this was all washed down with a good selection of wine and beer.
Put it this way, I had to roll home after eating there. I'm keen to eat there again!
So if you like this Secret Spot, cast your vote by December 17 2012!