Love Hotels Hi Tech!
If you're ever in Japan and you're walking down one of the many busy streets or avenues with your boyfriend/girlfriend and feeling a bit frisky, then you can rent a room in one of the many  'Love Hotels' that are around by the hour to remove some of that built up tension that has caused your hormone levels to skyrocket throughout the day.
Here is a Love Hotel located near Shinjuku Railway Station in Tokyo (the busiest in the world) that I spotted on a trip with G Adventures to Japan.
Love Hotel Purposes
Actually, if you are on your own and feel like a snooze for the hell of it, you're more than welcome to use the Love Hotel as a short rest (seriously – guys don't have to take matters into their own 'hand'). You might actually feel like doing this after the long walks around central Tokyo, when you are shopping until you drop.
However, ironically, some Love Hotels offer free wi-fi as part of their hourly rate.
But really, why the hell would anyone want to use it if you're loaded with hormones and have just walked off the street like the couple in this picture? Wait for it..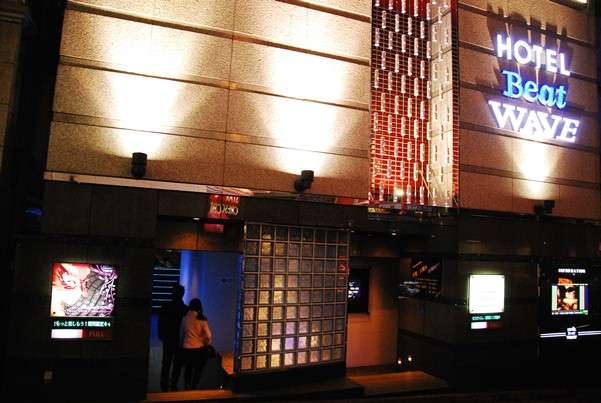 Maybe they want to update their Facebook status… before, during and after! Or maybe send out a few tweets throughout the course of their Love Hotel stay and journey! Even better, if they are feeling quite adventurous and are exhibitionists, they could send out accompanying photos to document the whole romantic hotel experience.
Hmm, one of the joys of being able to be constantly connected to the internet in the Information Age! Now everything can be broadcast and dissemination in real time!
More Love Hotel Stuff
For more Love Hotel stuff, check out Love Hotels – The Hidden Fantasy Rooms of Japan.