Kopi Luwak Coffee is internationally famous for where it comes from. And I don't mean the country of Indonesia either.
Kopi Luwak Coffee appears in my 52 Travel Tips For Weird Food and Drinks – you can even buy this stuff on Amazon!  But I've only heard about it and seen documentaries on TV – and never tried it.
That is, until now!
Members of the Surabaya Blogging Community, Tugupahlawan, told me there is a cafe that serves Kopi Luwak Coffee here, and I thought this was a perfect opportunity to try it.  They were kind enough to arrange a meeting with Anton Sukamto, the owner of the Rollaas Cafe.
The main reason Kopi Luwak Coffee is famous is because the coffee beans are eaten and digested by the Asian Palm Civet – this is a cat-like animal present in Indonesia.  The Civet isn't actually a cat – but are referred by locals as 'cats' or 'weasels'.
The coffee beans are then extracted from the Civet poo, washed thoroughly, and then lightly roasted – and made into coffee, or Kopi Luwak (Kopi = Coffee, Luwak = The Civet).
I guess sifting out the beans from the poo probably isn't the world's most rewarding job!
There are a couple of theories of why the coffee suppossedly tastes good.  Firstly, the digestive tract of the Civet may remove some of the bitter coffee taste, but leaves the beans intact. This may be due to the interaction of the stomach enzymes with the coffee bean, which increases the body of the coffee.
Or the Civet knows where to find the best coffee beans in the first place, since the Civet is probably like most caffeine addicts – we try to go for the best!
Anyway, Kopi Luwak is the world's most expensive coffee – when in peak demand, prices can reach about $USD500 per kilogram!
An example of the Kopi Luwak Coffee beans are shown below.  The light coloured coffee beans are the cleaned product, whilst the dark coloured beans are the result of some light roasting.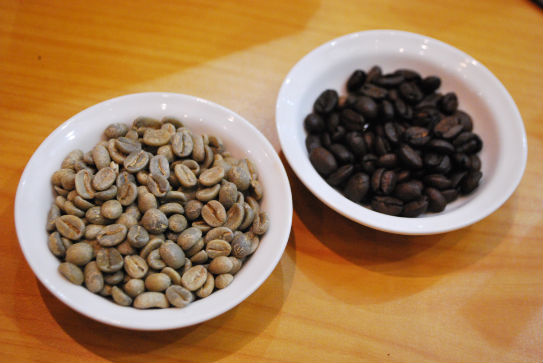 The Rollaas Cafe in Surabaya serves Kopi Luwak, and this is where I had my chance to try it.  The staff there were very helpful and informative, and I had an in-depth chat with the owner, Anton.
Anton told me that Arabica beans are used at the Kopi Luwak farm where the Rollaas Cafe sources its coffee from. It's located at Bundowoso, about 260 kilometres south of Surabaya.  The farm produces about 2000 kilograms of Kopi Luwak per year.  Anton is looking to expand the sales of his Kopi Luwak to Bali, so this should be more accessible to more foreigners visiting Indonesia.
Anyway, I'm no coffee afficionado, as I usually drink coffee on a social basis and not as an excuse to keep myself awake at work.
But I know what tastes good for me, and I downed an entire cup of Kopi Luwak Coffee – which cost about $USD10.  The coffee is drunk black, without sugar.
Here are some pictures for the proof!
Kopi Luwak Coffee – How it Works
This is how the Kopi Luwak is boiled up.  The water is heated up and then rises to swirl with the coffee.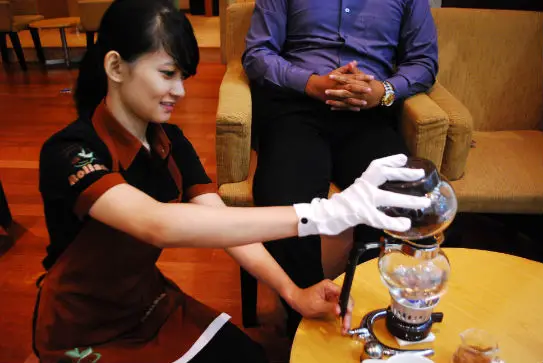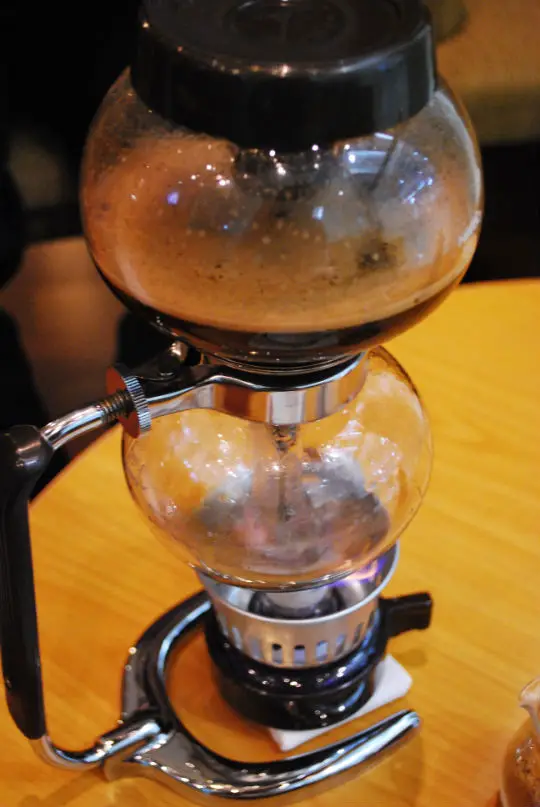 You can buy sachets of Kopi Luwak Coffee at the Rollaas Cafe and take them home – these cost about $USD3.50 each, and each sachet makes 1 cup of coffee.  You need to boil up 200 ml of water for each cup.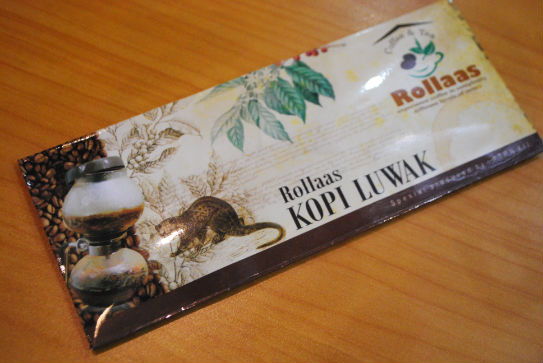 So what's the verdict?
Like every single cup of coffee I have tried in Indonesia, it's excellent.  However, it does taste different to the other varieties I've tried in Indonesia.  Kopi Luwak is very smooth, and it has a long aftertaste.  There is little bitterness, and the cup went down my gullet extremely quickly.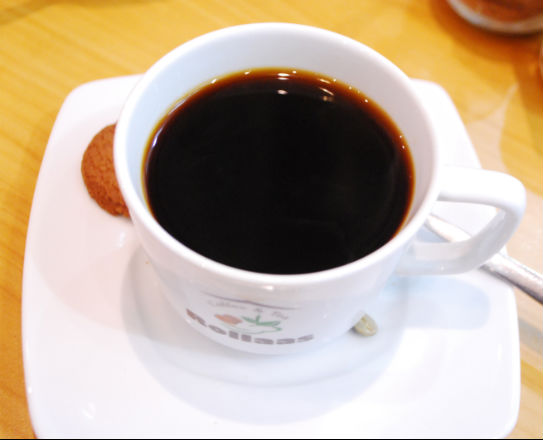 Kopi Luwak – The Verdict
Is Kopi Luwak Coffee worth $USD500 per kilo?
Well come to Indonesia and try some out and you make up your mind!
The Rollaas Cafe is located in the City Of Tomorrow mall, which is near the Surabaya airport, or about 15 kilometres south of the city centre.  Their address is Jl Jend A Yani no.299, Lower Ground FL.LB 02, City of Tomorrow, Surabaya, East Java – Indonesia.  If you're that desperate to try it, you can call them on +62 31 5825 1208.
I'd like to thank Anton and the staff of the Rollaas Cafe for their time and their hospitality – I really appreciate it.  I've included a picture of them below: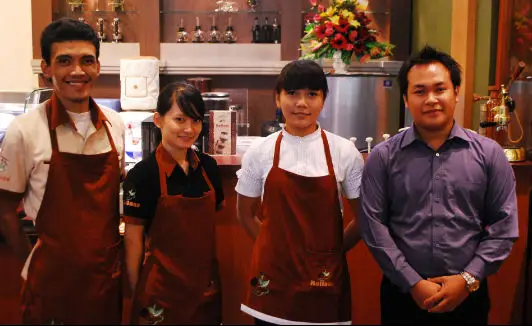 Air Asia can fly you to Surabaya via Jakarta so you too can sip on some Kopi Luwak Coffee.  Go to their website now and book a flight there! It's only a short ride from the Surabaya airport to the Rollaas Cafe!
If you're planning a trip soon, check out my best travel insurance tips, and get a quote on some Backpacker Travel Insurance.