One thing I was expecting a lot of from my G Adventures trip to Japan (see more at the G Adventures site) truckloads of Japanese to English Translation Fails, or basically, a lot of Funny Engrish – that is, the funny signs that come up when the native language doesn't quite translate as it should into the 'Queen's English'.
Some examples of this that I have featured on this silly website before are the Escarator, Keep Of The Grass Sign, and Grilled Crap!
Apparently, the Engrish in Japan has been cleaned up a lot in the last decade. I must admit, I was struggling to find some Engrish Funny Stuff on my travels there – much to my disappointment!
These days if you really want to see some of the funniest signs in the world, you have to go to nearby China. Apparently, they don't really care how things are translated. Close enough is good enough. Sort of..
Japanese to English Translation Fail – The Closest I Got To It
Unfortunately, the owners of this restaurant have invented a new Engrish word – 'Sourse'. Obviously, they were thinking of the word 'sauce' (but not 'source'), and maybe this word was created because 'Sourse' and 'Sauce' sounded the same and it's phonetically correct!
Holy crap, I think that last sentence I wrote resembled a Dr Seuss children's book!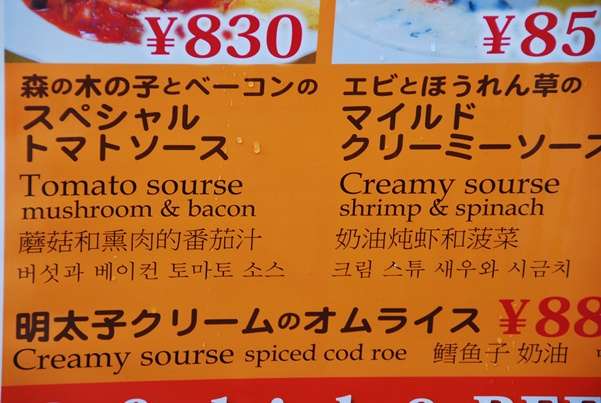 Oh well.
I can't talk – if I tried to convert something from English to Japanese, it would most likely be indecipherable, or if it was remotely understandable, would probably mean something else – probably offensive.
I think I would be like the Dirty Hungarian Phrasebook Sketch from Monty Python's Flying Circus. For example, if I was asking for directions to the train station in Japanese, it would probably come out as 'My Hovercraft Is Full Of Eels, Please Fondle My Buttocks!'.
More Japanese to Engish Translation Fails
For more Engrish Funny Stuff, check out The Joys of Engrish.