Airlie Beach in Queensland Australia – Tropical Island Chill Out Time!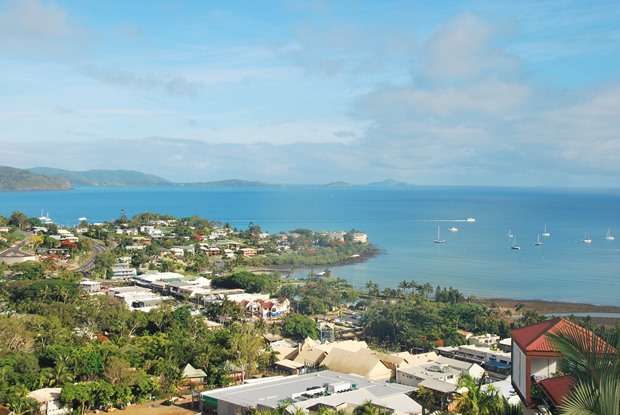 Airlie Beach is a popular stop in Queensland on the east coast backpacker trail in Australia – which runs from Cairns down to Melbourne. It's the main land access point to the Whitsunday Islands which are well known to cater for everyone from backpackers to the rich and famous who sometimes decide to park their super yacht in one of the many bays.
In fact, some Baroness from the Canary Islands had decided to have her super yacht anchored off one of the islands when I went for a cruise around there. Lucky for some!
Anyway, it's pretty obvious why Airlie Beach is popular – there's lots of things to do in the sunshine, or you do bugger all. It's also been lucky that it hasn't been bombarded by rows of high rise apartments that tend to spoil other places that are located next to the water.
I've been there a couple of times previously – if you're after the attention deficit description, I'd call it 'a not too big/not too small unpretentious place to chill out at the beach or party away near some pretty islands and the Great Barrier Reef'.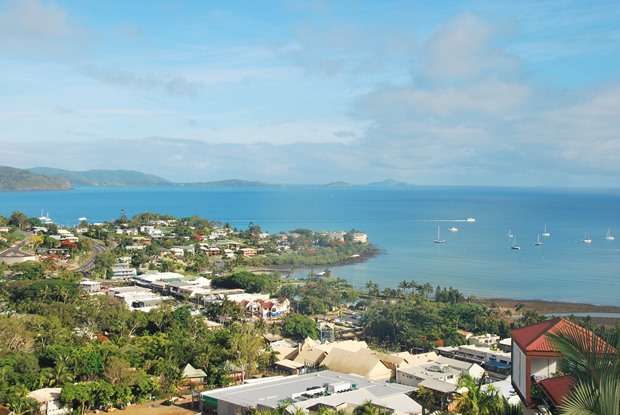 I've written about some of the things to do there previous like go on a Great Barrier Reef Scenic Flight whilst hungover, eat at a bizarrely combined Rum Bar/Fish and Chip Shop, and go on a Jet Ski Safari (an activity that some people also like to do hungover), but here are a few other things to do while you are there.
Airlie Beach is popular with both Australians and overseas visitors alike – which means this is a good place to meet both domestic and international visitors, which probably promotes a spike in inter-country relationships!
Here we go!
Things to do at Airlie Beach
A popular option for those pasty skin types from Europe who want to fry themselves in the southern hemisphere sun, Cruise Whitsundays does trips out to many of the islands, including Hamilton Island, Daydream Island and iconic Whitehaven Beach. Island hopping and sailing are very popular in the Whitsundays, and a number of competitive races are held throughout the year.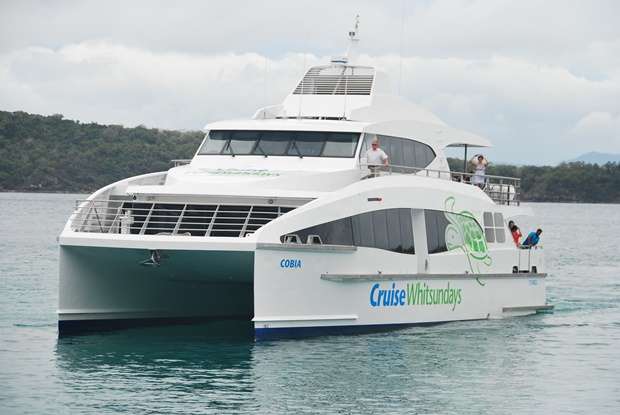 There are regular ferries that operate around the Whitsundays so this is an enjoyable way of finding your own piece of sand to laze around on.
And you might spot some Hollywood celebrity taking a break from the paparazzi if you're lucky. Or you might bump into a paparazzo trying to stalk a Hollywood celebrity for a tabloid shot!
Obviously, all sorts of water sports from jet skiing to fishing charters are other popular options. In fact, if you feel like sleeping underneath the stars, a 'Reef Sleep' is available – that is, lying on a swag on a permanent pontoon, which is a different kind of 1970's water bed!
Places to Eat
In terms of places to eat, there are loads of places to gorge on within Airlie Beach – from cheap eats on the street to more refined dining options. There are even free to use barbecues on the beach if you want the ultra budget option of cooking your own food on the waterfront. Or, if you'd rather pay some money to have someone else cook food for you, here are some examples that I've managed to sample myself.
The Airlie Beach Hotel has a number of restaurants ranging from Mexican to modern cuisine. A good place to have your meal and have a few drinks before partying the night away. There should be some sort of meal there that will cater to your craving.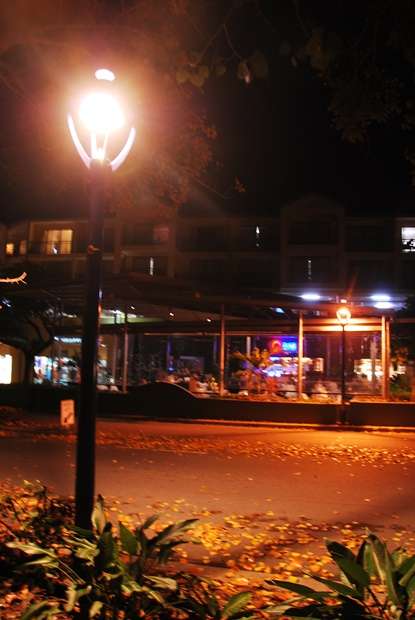 Deja Vu Restaurant is in a pretty nice spot next to a pool and offers a refined dining option, but having said that, it's still a casual place and the prices are good value for the quality of food that you receive on the dinner plate. I had to roll out of here because I cleaned up every bit of food on the plate. Yummo. Try the eye fillet steak followed up by tiramisu for dessert.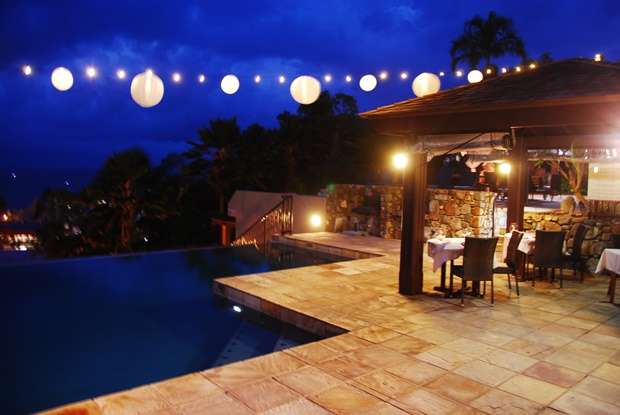 A good place for lunch is the Fat Frog Cafe, which is a new joint that's popular with both local's and visitors alike. Good for a filling meal for lunch that will send you off into a siesta. Try the lamb burger here for a good carnivore option.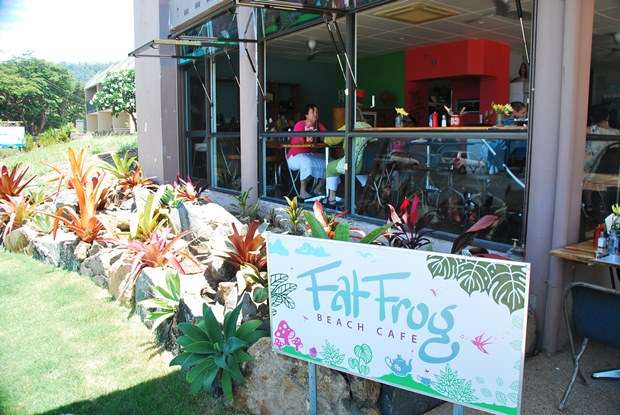 The Sidewalk Cafe is a good breakfast option, especially if you feel the need to re-line your stomach after a big night out at one of the pubs.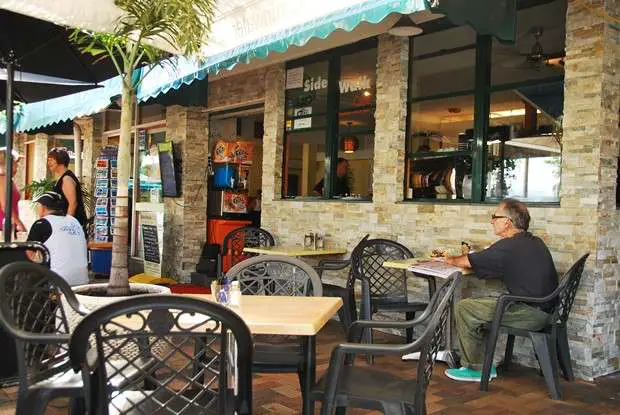 Places to Stay
There are loads of places to stay in Airlie Beach from dorm beds to apartments. Here are a couple of the apartment like options that I road tested:
Marina Shores is located in a pretty speccy (spectacular) spot with ocean views overlooking the Whitsunday Islands. It's pretty hard to remove yourself from this version of the "office". It beats the fluorescent prison any day.
Let's just stay I enjoyed staying here, which makes a very pleasant change from some of the flea ridden and cigarette stained carpet establishments that I've crashed in during my time.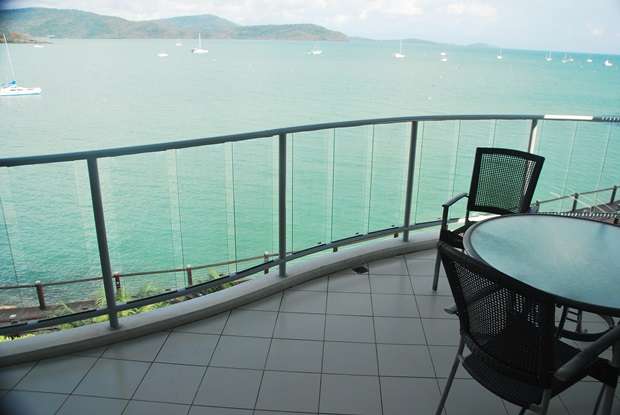 Pinnacles Resort is another good option located up in the hills with great views of the Whitsundays.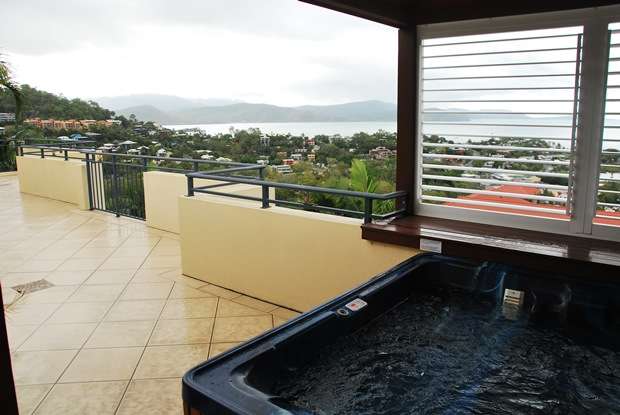 There you go. If you're ever in Australia and feel like a place to do everything or do nothing, Airlie Beach is a good option if you like a place that isn't wanky but still provides to a lot of tastes. Check it out!
Disclaimer: Yes, I was provided this trip via Tourism Whitsundays, but all opinions express are my own.