How Far Would You Travel For Chocolate?: Salon du Chocolate Festivals in Paris
Today, I've got a guest post for the Chocaholics from a guy called Logan. It's about pigging out at Chocolate Festivals in Paris. A bit too much!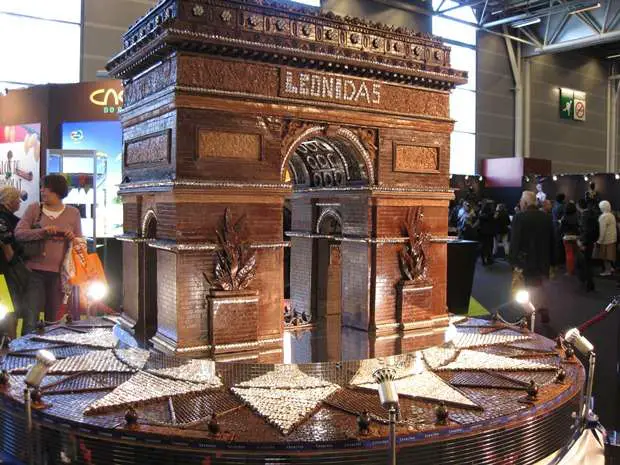 Chocolate-lovers of the world, unite! The Salon du Chocolate festival in Paris is a place where chocolate-junkies and chocolate industry insiders can mingle over chocolate sculptures, macaroons, eclairs, ice cream, and beverages. There are Salon du Chocolate festivals all over France, in addition to New York and Shanghai, but the epicenter of chocolate is undoubtedly Paris. So, as any chocolate addict would, I made the great trek to the biggest, baddest chocolate festival in the world, taking an air charter straight to the city of light.
As I entered the Porte de Versailles convention center, 12,000 square meters of show space, I was completely overwhelmed by the environment. There were chocolate connoisseurs gently and slowly nibbling on chocolate squares, discussing its texture and flavor in slow, eloquent French. Enormous, over-the-top chocolate carvings, like the Arc de Triomphe, a chocolate bed, and a slightly disturbing chocolate, S&M-donning figure, littered the convention center.
Chocolate fanatics pushed their way to the front of lines to get their share of free chocolate samples, desperately trying to get their chocolate fix. Anorexic models strutted slowly and gracefully around the center stage in outfits made entirely of chocolate. Chefs cooked triple-tiered chocolate pastries as their minion cooks diligently and hurriedly handed out samples on silver platters.
There were countless vendors (around 200 to be exact). Everyone from big names like Belgian chocolatier Guylian and Lindt to high end, boutique sweets, like Benoit Chocolats and Mazet Maison de la Prasline, made an appearance, repping their treats in colorful, decadent booths. There were enough free samples to kill a man (causes of death: chocolate overdose and extreme pleasure). In short, this was as close to heaven as I've ever been.
Chocolate Festival Overload!
I made my rounds in the convention center, warming up with a (few) Bailey's chocolate beverage(s) then drunkenly nibbling on a Guylian chocolate-mousse seahorse, a personal favorite. In my chocolate-induced, dopamine-surging sugar high, I made my way to a five-tiered chocolate fountain. As I doused marshmallows in gloriously shiny, flowing chocolate, I eavesdropped on a conversation between two chocolate industry "insiders"–one French, one Japanese.
From what I could gather from their broken English, the chocolate and pastry industry, have taken on this ridiculously intense form called "haute pâtisserie." For those of you familiar with fashion, this new "haute pâtisserie" follows much like the cycle of "haute couture," or high fashion. Pastry chefs now show their creations in seasonal collections, similar to the fashion world. Now that's intense chocolatier-ing.
I may have only gone to the chocolate festival to munch on free samples and see chicks dressed in chocolate dresses, but I left with a ridiculous amount of knowledge about the chocolate industry and its many forms. For anyone who truly loves chocolate, try and make it out to the festival (whether in New York or Paris) at least once in your life for a mind-blowing experience.
More Chocolate Festival Stuff
For more on Chocolate, see more at The New Taste of Chocolate: A Cultural & Natural History of Cacao with Recipes.
See more at my silly list of French Swear Words!