Today I've got a funny travel photo about BJs from Marysia at My Travel Affairs. She has sent me some one previously, including the funny mobile phone sign, making mistakes, and the Cut The Crap hair salon. And it's not about the BJs you are thinking about!
You can follow @mytravelaffairs on Twitter as well.
Marysia says 'We all know what bj's mean, and please do not play an innocent bunny now ha ha ha! I took this picture back in 2010 when I was travelling with my boyfriend through the West Coast of the United States. We were strolling streets of the Old Town in Florence, Oregon while we saw a huge queue lining down almost to the corner of the other street. You could not see anything except huge signboard with a word BJ's and ice cream cone underneath.
The BJs sign!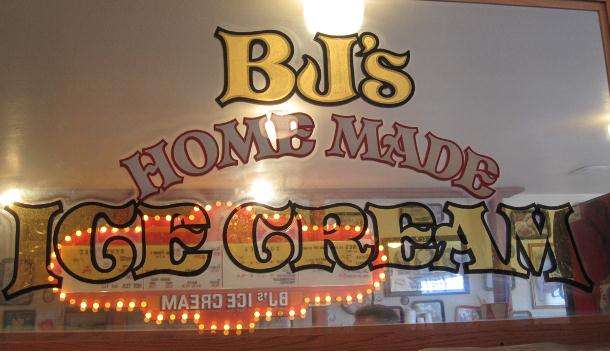 And yes, majority of people where men (wow this place must be good)! I was laughing my ass off but after a while I said seriously to my boyfriend: I told you that those Americans are weirdos….and here you have the best example, but I couldn't keep up a straight face. We joined the line, what the heck I thought, I have to see it. It came up that BJs is a renowned Ice Cream Parlour!
And the ice creams were delicious, all hand made… 😉
Banana split and salted caramel flavors for me please ha ha ha'.
Yes, I know that BJs are usually a shortened version of someone's name – like Billy Jean, or Bobby Joe, or something like that, and that this abbreviation is common in the United States. But for those of us outside of the United States visit to have a good time, when you see the BJs word in bright big lights, obviously a bit of innuendo can creep in for some people!
If I'm ever around in Florence, Oregon, I'm keen to go for some BJs. That's because I've read some good reviews about them on the internet. The ice cream that is, and get your mind out of the gutter!
Seriously, if there is a massive line up to an ice cream parlour, the ice cream must be pretty good!
More BJs stuff
I'm fairly sure that this reputable ice cream establishment didn't appear on BJs on the Roof.