Cappadocia is located in central Turkey. And there is no other place like this in the entire world. Which makes it definitely worth visiting if you ever make it to central Anatolia.
Can you imagine waking up after a big night on the booze, and stumbling out the door to see this strange sight! It would definitely be a massive WTF!
What would you think?  I reckon someone must have teleported me to the Land of the Giant Dildos. This place looks like something out of a fairy tale, not real life!
Cappadocia, Turkey – Phallic Landform Central!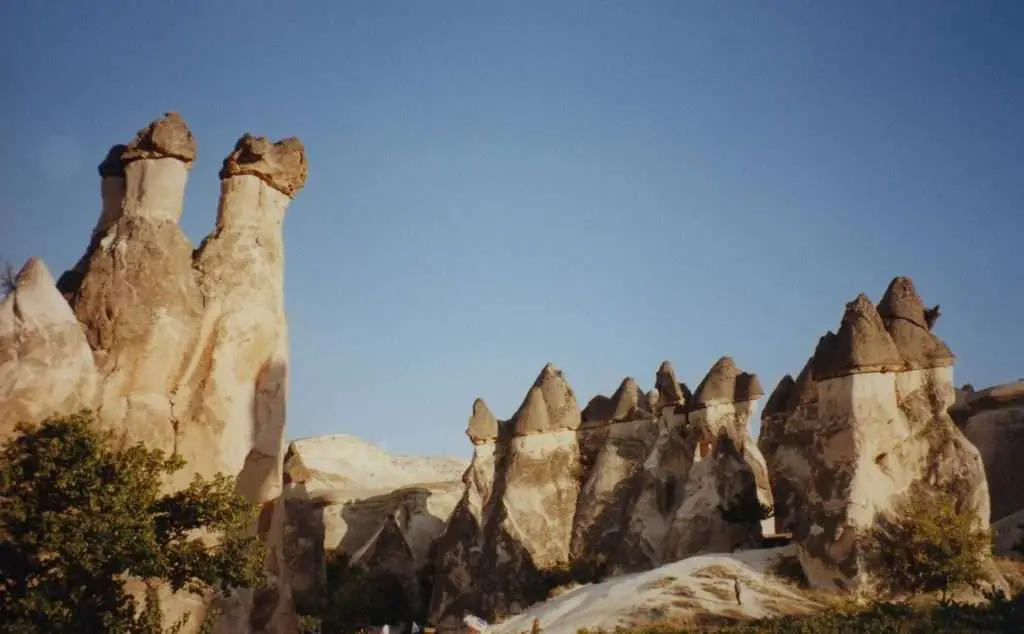 Actually, this isregion ofCappadocia, near the town of Goreme, in central Turkey.  This region looks like a Star Wars set minus the far-fetched battles that grace the screen of the cinema or wide screen plasma TV's.
So how did these bizarre landscapes originate?  Well, volcanoes spewed lava across this high, flat section of the Anatolian plateau three million years ago and the subsequent erosion – by wind, rain and snow – gradually battered the lava, leaving weirdly-shaped hills and mounds made of soft, white volcanic rock called tuff, or tufa.
How Cappadocia Formed
When the volcanic lava eroded, it left thousands of curiously-shaped conical rocks giving the landscape its uniqueness.  The Cappadocia valley was littered with thousands of these penis-like formations.
People even carved houses out of these formations and lived there for thousands of years.  I'll write another post about that later!
You can read more in this book about Cappadocia and Cave Monasteries of Byzantine Cappadocia.
Also in Turkey, you can also visit Gallipoli, Buy A Carpet, or visit Ephesus.  And drink Efes Beer.  I've spent over a month in Turkey, and that wasn't enough. There's so many things to do there in Turkey!