Falling asleep at the wheel? Well maybe you need to feast your eyes on some of these unusual road safety signs that are dotted all over Australia
These are actually practical signs that might actually save your life because you actually take notice of them – like the Sand! sign in Namibia.
Loads of us have undertaken a road trip. When you live in a big country like Australia, there are usually hundreds or thousands of kilometres/miles involve with your journey, and that involves a number of hazards such as fatigue and just being plain old tired.
Yes, the road can be hypnotising. And that's why Australia has Fatigue Zone Trivia!
This unusual method of road safety campaign is implemented in areas where there are high numbers of crashes and incidents on certain stretches of road.
Keep an eye out for them!
At first you'll think WTF, but there is a method behind the madness!
So how to these road safety signs work?
Well, you'll be driving along the road and you'll come across a sign saying 'FATIGUE ZONE – Trivia Games Help You Stay Alert' – like this one.
I spotted this one near Gympie in Queensland.
Then you'll come across a trivia question – pretty much what you comes across on any trivia night at any pub around the world.
Like this one. I guess this might create some competition in the car amongst all of the smarty pants people!
A couple more minutes down the road, you'll have the answer to the trivia question.
You know what, it's just so simple, that it works.
And when you finally pass the Fatigue Zone, you'll have this sign going past your rear view mirror: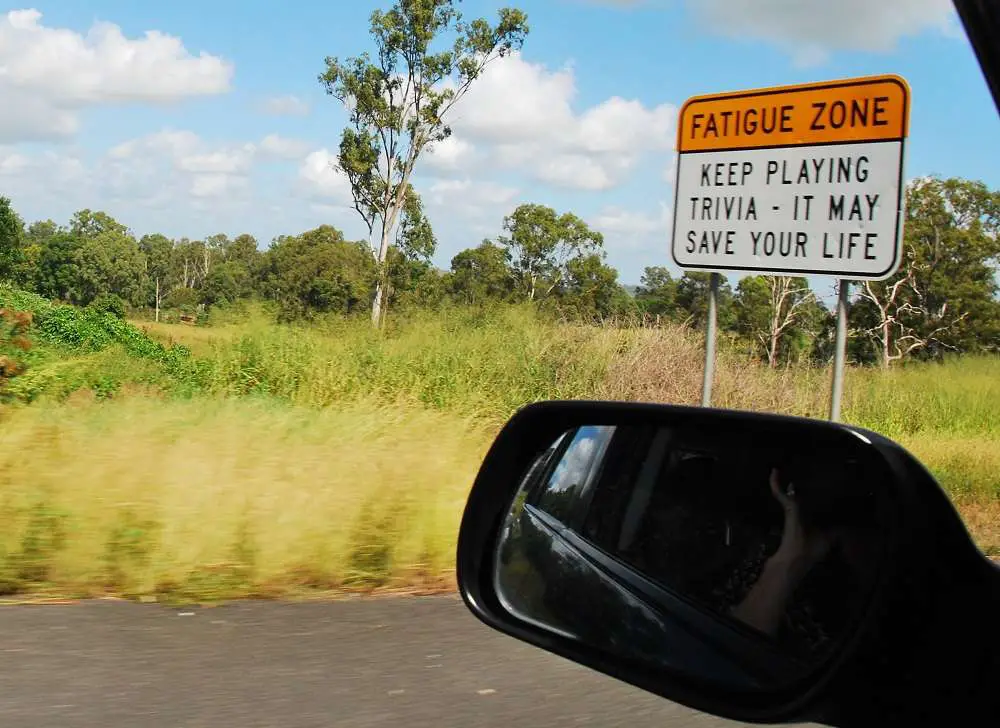 You just never know!
Anyway, for more road trip stuff, see Unusual Places To Visit, Weird Road Rules Around The World, Road Trains in Australia, Samoan Road Rules, and The World's Most Dangerous Road.