I've seen all sorts of street buskers in my travels around the world – some of the more weird ones include the people dressed up as all sorts of famous people in La Rambla, in Barcelona, Spain.
Like the internet, busking is a numbers game. If you perform in a place with thousands of people walking past everyday, chances are that you are going to score some loose change if you're any good. More people walking past = more money!
And the more quirkier your busking act, the more likely you are to have those coins being tossed into your hat or other money collection device!
Actually, some people make a living (and sometimes a very good one) from busking alone in the world's major cities such as London, Paris, etc.
One prime area for this are the popular New York City subway metro stations which handle tens of thousands of people each day. Just think about it, if you could score just the odd cent here and there from these people that walk past, you'd be a millionaire in now time!
When I went to New York a few years back, I came across these guys playing their unique and improvised percussion instruments:
The Plastic Drum Kit – Cool Percussion Instruments!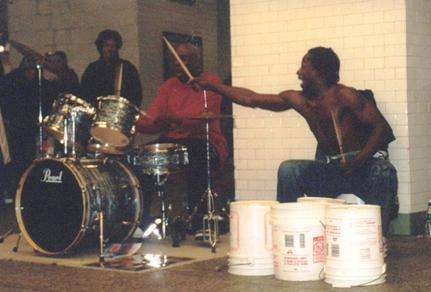 These two guys – one playing a standard drum kit, and the other, playing a drum kit made out of plastic buckets, were playing in tandem inside a subway station near the heavily trafficked Times Square. They would often play drum solos whenever they felt like it and they attracted a large semi circle crowd around them for their entire set.
And you had no choice to hear these guys, as it was about as subtle as having a brick being dropped on your head whenever you were trying to enter or exit the station.
I wish I had a video camera at the time to capture these two, as they were pretty good. And there's nothing like using a bit of improvisation to make a living!
So the next time you're on your round the world trip and you're short of a bit of cash, think of something weird and start plying your trade on the street.
You'll soon find out if people are paying you to keep playing or to stop!