The Mesjid Raya Baiturrahman is a stunning piece of mosque architecture located in Banda Aceh. It's one of the prettiest buildings around in town, and it's true character is revealed if you visit this nice building at night.
I went out a couple of nights ago in Banda Aceh to take an evening shot with my SLR camera and tripod – even though I thought I did a pretty good job in setting up this picture, this mosque photo doesn't do the Mesjid Raya Baiturrahman justice.
Mesjid Raya Baiturrahman- Mosque at Night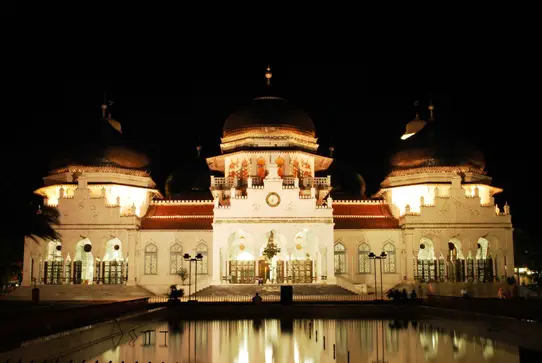 It was first built in the 1870s by the Dutch and bits have been added on since.  However, this building achieved international fame when it miraculously survived the 2004 earthquake and tsunami intact – a sign seen by some as divine intervention.
To put things in perspective, some of the images that were being beamed out of Banda Aceh to the world showed the Mesjid Raya still standing, whilst all of the surrounding buildings had been completely flattened by the tsunami – which is a natural event that the locals will never forget. But it's good to see that they are getting on with their lives and doing what they want to do.
The best time to see the mosque in action is during Friday afternoon prayers, when it is packed inside and also in the yard.
Anyway, that's it for me from Banda Aceh.  I have loved my time here, and I highly recommend coming here to check it out.
You can read more at The Great Mosque of Banda Aceh: Its History, Architecture and Relationship to the Development of Islam in Sumatra.
Next stop: Pekanbaru, in central Sumatra.
Air Asia are the kind sponsors of this trip.  Check out their website for their flights all over the place!