Mazda MX5 Review from someone who knows *$&# about cars.
I've decided to write a  Mazda MX5 Review with reference to a car that was given (sorry, lent) to me and my friend from GT Style.com for a recent cool junket related to the Targa Tasmania Car Rally.
That's because I feel a bit guilty by devaluing a nice vehicle from Mazda that had 7 km on the clock when we took it, and almost 1000 km when we handed it back – probably devaluing it by a few grand.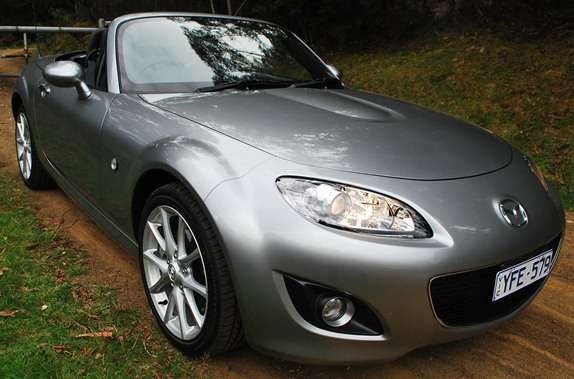 No seriously, I really enjoyed cruising around in the Mazda MX5 following some of the Targa Tasmania, and since most travel addicts like myself enjoy checking out places independently, this might be of interest to those in the travel and leisure markets.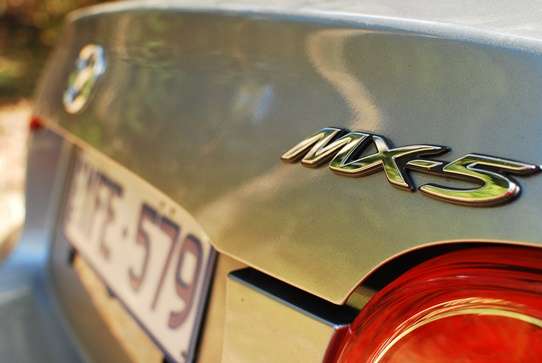 I'm not trying to be Top Gear or anything, but take this Mazda MX5 Review from someone who loves travelling, and might sometimes do that in a car.
If you're a petrol head who's looking for an anal analysis of specifications and other car tech boffin things, you're better off checking another forum or the official Mazda site!
Anyway, here it goes.
Mazda MX5 Review – Features
Firstly, the Mazda MX5 is a two seater hardtop convertible car – it's meant to be enjoyed with the roof down so you can enjoy the wind through your hair – if you have any. Hence, it's probably not ideal for Arctic Regions, or places where there are large sand storms. But if there's a good chance of good weather forecast, the Mazda MX5 with the top down might be your cup of tea.
It's probably not ideal for basket ballers though with the roof down.I'm 185 cm or 6 feet 2 inches. That's enough for my head to touch the Hardtop Roof when it's closed. But for most people, why would you drive with the top up unless it's pissing down from a great height with rain?
And it doesn't take long to transform the car into open wheeler mode. The hardtop roof takes seconds to be sent down or up. Here is a video of how quickly this works.
[youtube]http://www.youtube.com/watch?v=pPmFtaF9zYA&feature=channel_video_title[/youtube]
What else does the Mazda MX5 have? An accelerator, brakes and a clutch! If you use them altogether, this creates a pleasant driving experience wherever you go! It has a really good Bose stereo system, so you can give yourself or others looking at the car industrial deafness! I dare you to stop at the lights and play a Justin Bieber song….. at full bore!
The boot (or trunk for my North American friends) is a bit small – it required a massive feat of arrangement of luggage gymnastics with a degree of difficulty of 10 just to squeeze my backpack and my friends duffel bag. And then we had to stick our small backpacks in the space where the roof folds into to make sure that our ankles weren't around our ears.
Like so: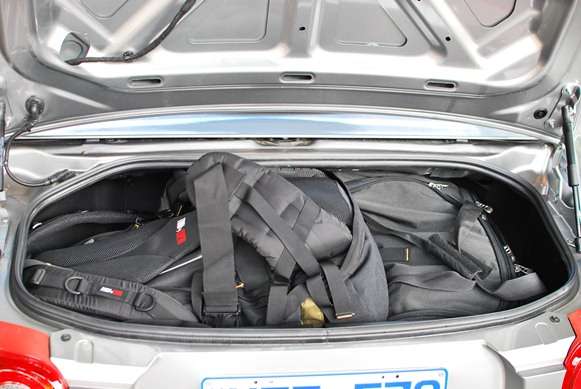 So if you're planning a round Australia trip or something like that, it's probably not that practical. But if you pack light, you'll have no worries.
Is the Mazda MX5 a good touring vehicle?
Yes! Definitely. I found the engine to have enough performance to overtake slow coaches in the road. I'm not a bogan or anything like that, but I liked the power delivery to the wheels when I depressed the accelerator.
But the Mazda MX5's greatest strength is driving on windy roads with the top down. This is when you know you are living!
Here is some footage of us driving on one of these windy roads:
[youtube]http://www.youtube.com/watch?v=t9ZuKa-n7yI&feature=channel_video_title[/youtube]
This is a lot of fun!
Mazda MX5 Review – Verdict
One must remember the context of what this car is – a hardtop convertible that's meant to be driven for the pleasure of driving.
And for that,the Mazda MX5 does a pretty good damn job! As long as you pack relatively lightly, this would be an awesome car to go on an extended road trip, assuming you had nice weather for most of the way to put the top down.
So if you are thinking of a car to go cruising around in, the Mazda MX5 might just be a good option for you. Check it out if you have the chance.