After you've learnt how to interrupt the essential service that are radio telescopes, you can visit the spectacular Mount Kaputar National Park near Narrabri, which is a  nice detour off the Newell Highway.
One of the more striking features of the park are Sawn Rocks – which is a bizarre rock formation that was formed by the slow and even cooling of lava millions of years ago. It's a bit different to the Gatz Balancing Rocks near Cairns which are a human made invention!
Because of this event, the rocks were formed in the unusual pentagonal shapes which are squashed next to each other, and in almost straight lines.
It's amazing that nature can create something like this: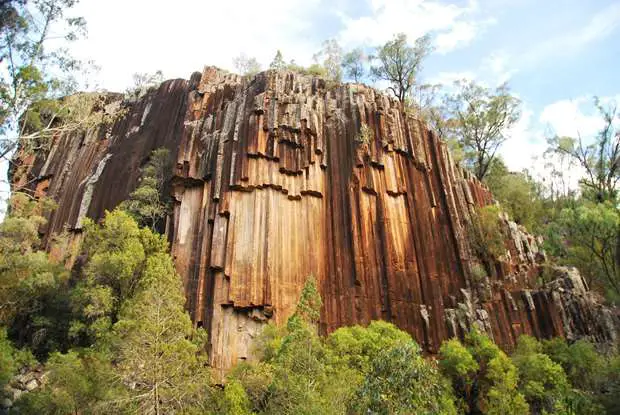 However,as soon as I had viewed Sawn Rocks, this place instantly reminded me of the very famous Giant's Causeway, which is located in Northern Ireland which I had visited with a friend in 2002. There is a legend that Giant's Causeway was given it's name because they are the remains of a causeway that was built by a giant who wanted to fight another one over in Scotland.
But Giant's Causeway was forever immortalised when it was used as the background for the 1973 Led Zeppelin album, Houses of the Holy, which is shown below.
Ironically, a similar cooling of molten lava process occurred at Giant's Causeway, which mostly caused basalt columns of hexagonal shapes – but there are also some with four, five, seven or even eight sides!
Which means that while Giant's Causeway and Sawn Rocks are at the opposite ends of the earth – they both share similar rock formations that occurred from different volcanic events.
I'm not sure if Sawn Rocks was built by the giant because he wanted to pick a fight in Australia with another giant!
Anyway, check out the precision of the pentagonal columns of Sawn Rocks below: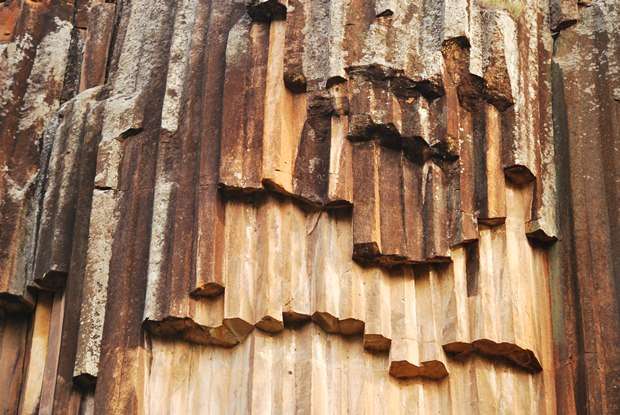 Giant's Causeway of Australia Video – Sawn Rocks
Anyway, here is a quick vid about Sawn Rocks that I shot so you get the idea.
There you go, there is my incredible feeling of travel deja vu – from opposite sides of the world!
Want more rocks?
Then check out: