Beefy Bovril is the beef extract equivalent of Vegemite, except it's a runny, treacle like toxic substance remotely tasting like Vegemite (which is a yeast extract). That's right, it's liquid cow or moo moo! Yes, it does sound bizarre upon first hearing this description!
I think Beefy Bovril is a cow-flavoured jam tasting like a nasty concoction of charcoaled animal lard and stale stout infused with cow poo. Sorry it doesn't do very much for me!
Here is a picture of a jar containing this bizarre substance below!
Beefy Bovril is Liquid Cow!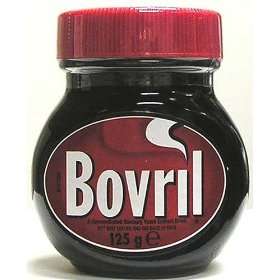 Like most old things, some of the stories surrounding this meat extract vary an could possibly be a very, very tall tale. One story of its origins was that the French army were notorious surrenderors in the late 1800s, because of a lack of meat sustenance.
The Beefy Bovril Legend was that the French government ordered a million tins of beef from a shrewd Scotsman who realised there was no way he could meet the dodgy contract by poaching fat cattle alone.  Instead, he boiled up any meat he could lay his hands on (probably including decomposing haggis) and spent his time mashing the meat through a sieve. Go Scottish culture!
He had unwittingly developed liquid bovine that had a shelf life longer than the half-life of highly radioactive nuclear power station waste.
Why people preferred buying preserved gooey beef instead of fresh solid beef was beyond me.
Anyway, and somewhat, unbelievably, Beefy Bovril is still around, so there must be a market for this strange product!  If you're desperate for a protein hit, Beefy Bovril might just be for you! But I can't see it being a major staple of my diet! No Thanks! I'd much prefer Sheep Shagger Beer!
Or maybe you could try some other weird food, listed in my post of 52 Weird Food and Drink Facts! and the Best Food In The World By Country.
More Beefy Bovril Stuff
Ironically, if you love the stuff, check out The Bovril Cookbook. Or buy some here: