Australian Souvenirs and Gift Ideas – Kangaroo Scrotum!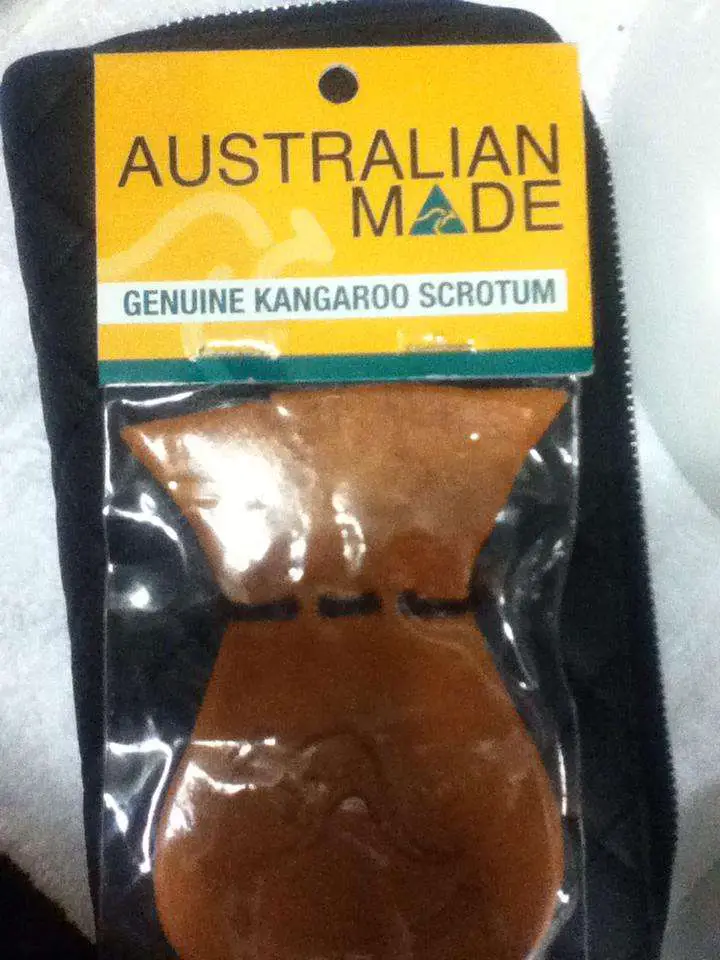 Unique Australian Souvenirs and Gifts – The Kangaroo Ball Bag Pouch!
Today I've got a funny travel photo from Stephen Schreck (what a great name – but he's not green!) who sent me in a picture of some Australian Souvenirs that he received from one of his Australian friends with a really warped sense of humor.
He runs the site A Backpacker's Tale. You can check out the Facebook Page and follow @mywanderlustlif on Twitter.
Anyway, check out the cool present he received…now, my eyes are watering.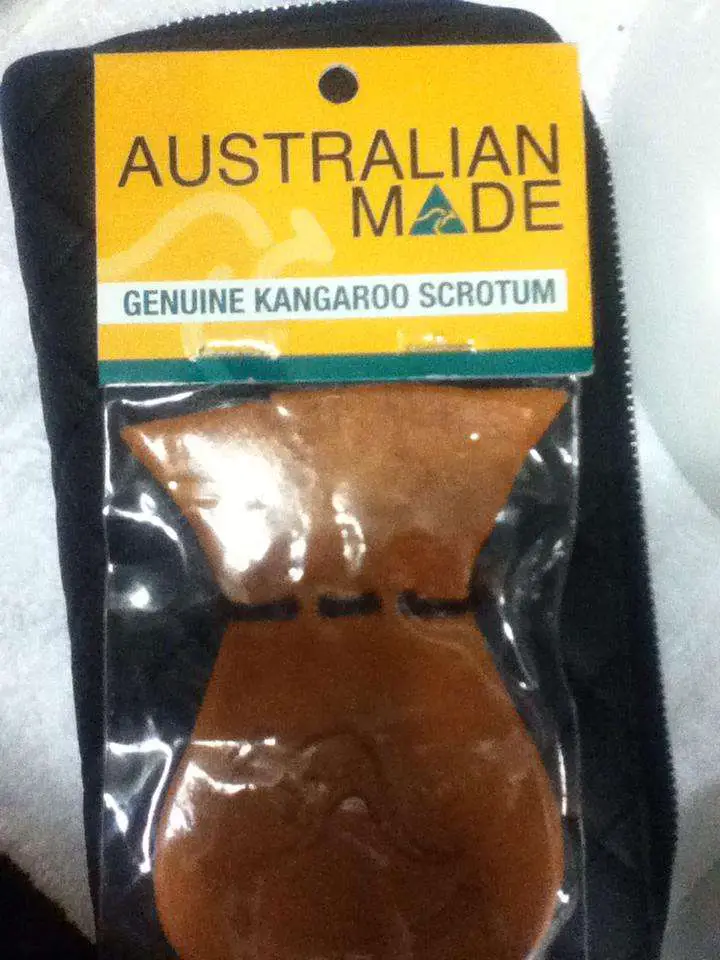 Stephen says 'Well, I knew I had kick ass Aussie friends when they should up to the U.S. for a visit with a gift that brought me to tears. Yes I'm now the proud owner of a kangaroo scrotum pouch. What these are made for I will never know but one thing I do know is that nothing says 'hey man is been a long time, I missed you," like giving them a small sack (no pun intented) made from private parts.'
Actually, these things are made for storing your loose change. There's nothing like pulling out a few coins from a kangaroo ball bag to pay for your pint of beer!
Ok, for the animal lovers out there, I need to point something out. Australia probably is the only place in the world where you are allowed to eat your own national emblem. Kangaroo meat is a niche (and regulated/legal!) market in Australia, and is available in most supermarkets for you to devour after cooking it on the barbecue. It's like buying steak, but from a different animal. This actually made my big list of funny travel tips. However, it has to be cooked right (medium at the most) otherwise it tastes like your are eating a pair of your hiking boots.
Kangaroo meat is actually very healthy – it has one of the lowest fat contents of any meat in the world (well, they spend all of their day hopping around), and hence, there are obviously left over parts of the Kangaroo which may be made into other products. They are also much lower maintenance than cows, and don't fart anywhere near as much as their bovine counterparts, thus they could be an alternative to help reduce greenhouse gas emissions whilst feeding the world at the same time.
Hopefully, this ball bag wasn't taken from the sleeping kangaroo!
Unlike many of the other kitsch Australian Souvenirs which are available from the tacky tourist shops, at least Kangaroo Scrotum products are made in Australia. The kitsch stuff is all made in China!
So if you're looking for a unique Australian Gift (I dare you to hand this over as a Valentine's Day present), the Kangaroo Scrotum is an original option!
Somehow, I don't think these scrotums appeared on any of the Skippy the Bush Kangaroo programs. That's because Skippy was female!