A Toilet With A View
Attend to nature's call with the Loo With A View. A Toilet with a Difference! There should be more of these latrines located in some of the more spectacular parts of the world. It would make one of human kinds biggest necessities more pleasant and entertaining!
Check out the sign below which provides directions to the Loo With A View.
I really like the pun, 'The Longest Drop in Africa'… And they are not talking about the Gorge Swing at Oribi Gorge or the Bungee Swing at the Moses Mabhida Stadium in Durban either!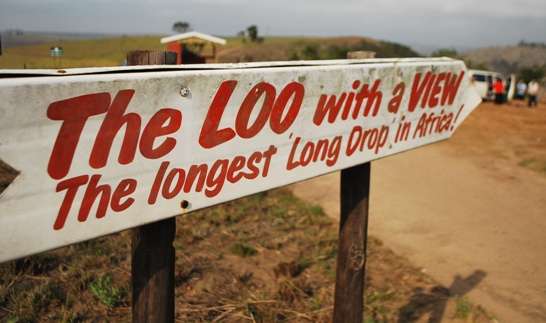 The Loo With A View is located at the Lake Eland Game Reserve, in the KwaZulu Natal Region of South Africa.
And this is the view when you sit on A Toilet bowl there – not too bad or shabby!
The view is of another section of the Oribi Gorge (a different to location to where the Gorge Swing is), a spectacular piece of erosion I had never heard of until I experienced it recently.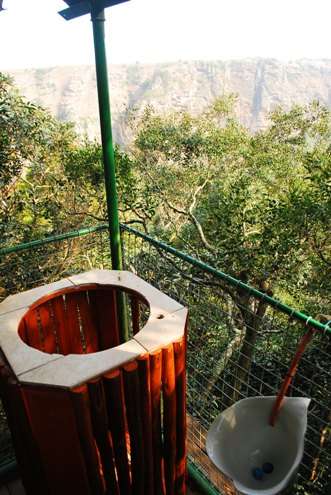 However, the main reason I think the Loo With A View (a unisex toilet) has been set up is to accommodate silly travellers who decide and traverse a viewing platform which is basically a steel beam with a bit of mesh supporting your entire body weight.
See what I mean? Warning, when the wind blows, this thing shakes a bit and it's a bit unnerving. But there were loads of other people willing to go out and have a look down!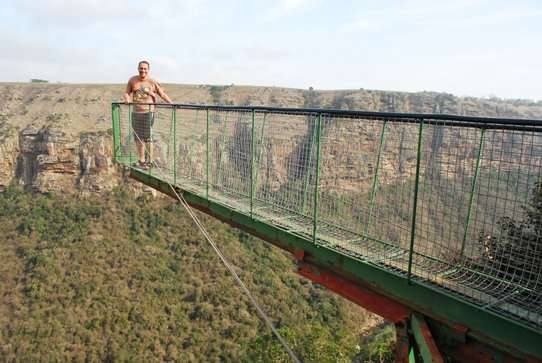 Or maybe it's because many silly punters have had a crack at the Gorge Swing earlier that day.
More Toilet Stuff
So if you are looking for a unique place to empty your bladder or bowels, try the Loo With A View – A Toilet that's a bit different!
Maybe it should appear in Toilets of The World!