Today I've got a guest post from Jacob Tuwiner about some of the Best Things to Do In Israel.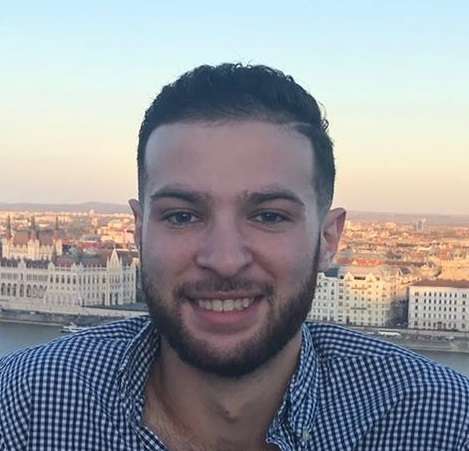 Jacob says ' I'm a college dropout turned digital nomad – after leaving school, I traveled the world for 7 months with nothing but a backpack and my laptop. When I'm not tip-tapping away behind my keyboard, you can usually find me hiking, biking, or on an adventure and hopefully staying out of trouble!' 
Here it is!
8 of the Best Things to Do In Israel

When people think of Israel, a few things usually come to mind.
Some may believe – thanks to the media – that Israel is either unsafe to visit or the locals aren't friendly to outsiders.
The fact of reality is that Israel is safe and actually one of the most versatile spots to have a rockin time.
Once you get used to the dudes with assault rifles walking around (IDF soldiers), you'll forget you're in the Middle East.
Believe me, I grew up near Baltimore, Maryland, and I can assure you Israel is way safer than the streets of that crazy city.
Whether you're a history nut, a scenic chaser, or a party animal; Israel is the place to visit.
After spending 2 months living in Israel, I definitely fell in love with the place and countless things to do there.
In this article, I'm going to break down the best places for you to check out on your travels based on my own personal experience.
1. Hit the Beach
Israel is lined with beautiful beaches with waves of crystal blue water from the Mediterranean Sea, the Sea of Galilee, and the Red Sea.
Being in the Middle East, Israel is always great if you love to soak up some sun. Hot temperatures during the day with clear blue skies overhead are the norm year round.
Oh, and the women on the beach are incredibly good looking. And for all of the women reading this, Israeli men are known for their looks as well.
Gordon Beach in Tel Aviv
Although it's ranked number 3 on this list of the best beaches in Tel Aviv, Gordon Beach will always be first in my heart. There's always a ton of action – the beach is lined with people, especially on weekends. Everyone is surfing, swimming, playing beach games and having a great time.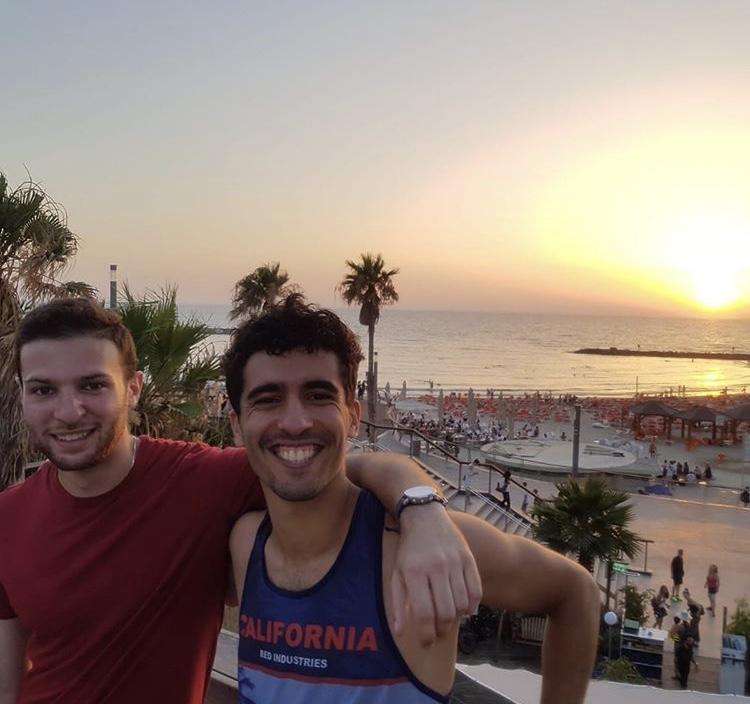 Gordon Beach is considered the main Beach for good reason – it's lined with palm trees, shops, and restaurants.
Right off of Tel Aviv, Gordon is a great place to soak up the sun and hangout for the day before getting into the night-life later on.
Hof HaCarmel Beach in Haifa
A coastal area along the western side of Haifa, Hof HaCarmel is more laid back with sunbathers and swimming.
Despite the chill beach atmosphere, if you're an adrenaline junky looking for a fix, you can also find water sports like surfing, parasailing, or kitesurfing there.
Hof HaCarmel is also a great place to fish for those looking for less deadly water-based activities!
Eilat
Very hot, and not green like the aforementioned Tel-Aviv or Haifa, Eilat is a city located at the farthest southern point in Israel.
Eilat is a very popular resort town and port, but the coolest part about it is the Red Sea to the south.
The views from beaches in this area is worth the trip alone. From Eilat, you can see Jordan, Saudi Arabia, and Egypt from one stance.
The water is really warm, boarding hot, even.
Unless you want to be more dried out than Spongebob's grandma, I'd recommend going anytime except Summer, Winter is the best time for it if you go!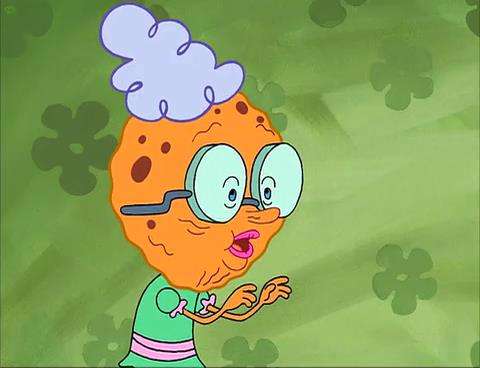 Scuba diving in the southern town attracts Israelis and tourists alike. The Red Sea is home to coral reefs and thousands of different breeds of fish and animals like dolphins.
Eilat is always filled with people kicking back and having a great time.
2. Visit Historical Sites
Israel was first declared as an independent state in 1948, But the land has been a place of significance to a list of countries and cultures around the world for thousands of years.
Because it's been a massive place of importance for so long, Israel has awesome historic sites all over the place.
Luckily, even if you're not interested in history, Israel has sights to lose yourself.
However, if you're a fan of history like I am, Jerusalem is a great place to start!
Old City Jerusalem
Jerusalem is the capital of Israel and is considered holy by Jewdaiac, Christian, and Islamic religions.
One big historic attraction is the Western Wall, the last remaining wall of the Second Jewish Temple after Solomon's Temple was destroyed by the Neo-Babylonian Empire 50 years prior.
The Western Wall is also called the Wailing Wall because of the tears shed from the destruction of the temple. Make sure you treat this place with respect when you're there unless you want an Israeli earful!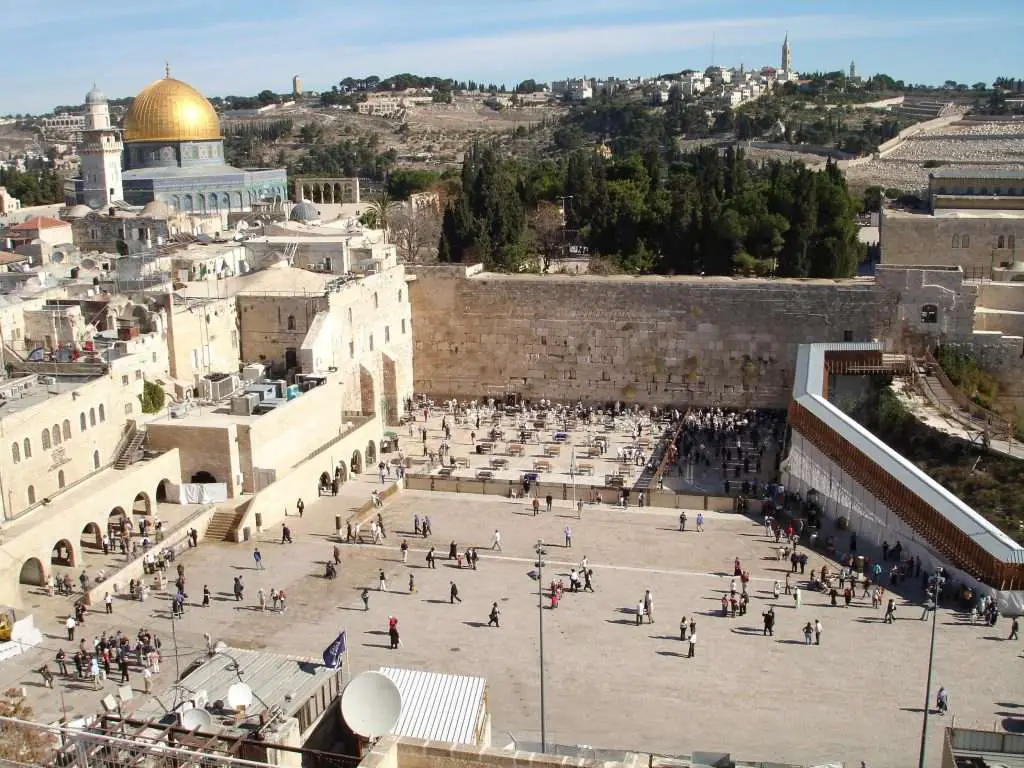 This wall is the holiest place of prayer in the Judaic religion, while the Dome of the Rock behind the wall is considered to be the place that Adam, the first man, was created by Abrahamic Religions.
Muslims believe that The Rock is significant to the creation of the world, making it a sacred place for multiple beliefs. No wonder this place is always so tense…
Visiting Jerusalem is surreal and can even seem overwhelming as massive crowds gather around to pray and celebrate.
Jerusalem, as you probably already know, is one of the most historic places in the entire world.
Underground City
Although there is plenty to see and do above ground, Jerusalem also has underground tunnels that can occupy hours of exploration.
From 2,000-year-old drainage tunnels to the ancient prison where Jesus was believed to have been kept the day before his crucifixion, there are tons of historical sites beneath the ground of Jerusalem in Israel.
Don't worry about the sewage tunnels you're kicking water through, though, they haven't been in use for thousands of years.
Masada
The ancient fortress of Masada, located on a massive mountain plateau overlooking the Dead Sea is another place of great historical significance. And if I do say so myself, it's totally badass.
Built by Harold the Great around 70 BCE, Masada was one of the few remaining places that hadn't been attacked by the Romans during their invasion of Israel (Palestine at the time) until 74 CE.
Once the Romans built ladders and finally reached the mountain fortress after a long siege, they found a site of nearly 1,000 Jews already dead. The Jewish Zealots committed mass suicide to avoid being captured and enslaved by the Romans.
You can hike the huge mountain yourself, or avoid the exercise and take a cable car directly to the top. If you do plan on hiking the mountain yourself, make sure to leave early in the morning. The trail is usually closed after the sun rises because it gets too hot. Also, make sure you have an adequate backpack that can carry plenty of water – you really don't want to be dehydrated out there!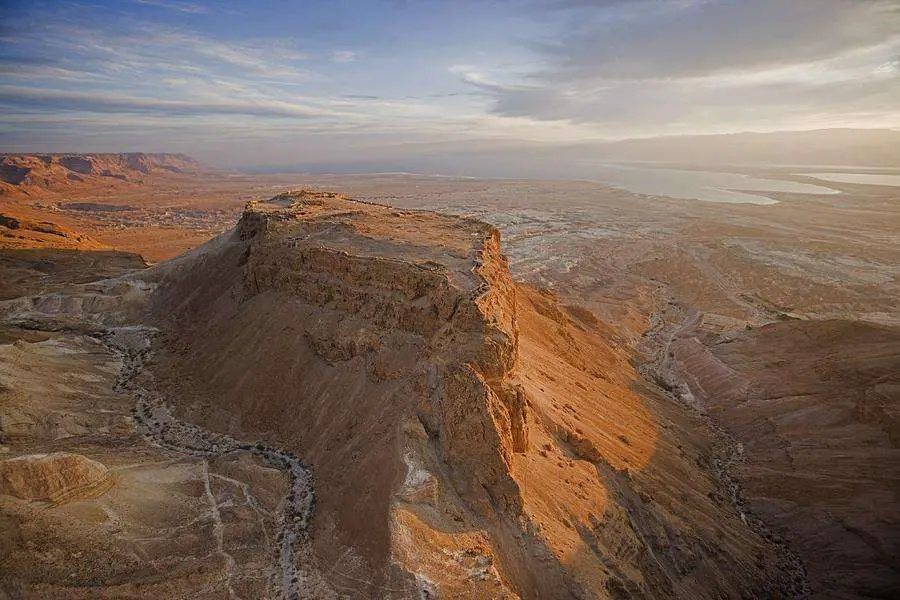 From the overlook, you can see vast desert land and the Dead Sea in the distance. The view is spectacular, breathtaking even.
The combination of a crazy interesting past plus the beautiful scenery makes Masada a must-see for all travelers visiting Israel.
Masada is conveniently located next to the Dead Sea – you can actually see it from the top of the mountain. We'll get to that later.
Independence Hall in Tel Aviv
In 1948 David Ben-Gurion, who became Israel's first Prime Minister, signed the Israeli Declaration of Independence, proclaiming the establishment of Israel as a state.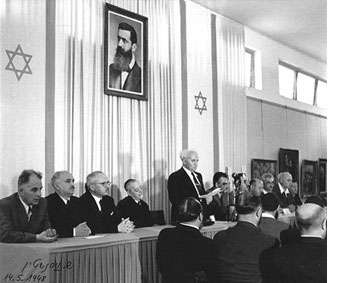 The Arab-Israel War was declared immediately after reports of the signing reached neighboring countries. Israel was invaded by forces from Egypt, Transjordan, Syria, Iraq, and the war was fought until 1949 when Israel secured the Northern and Southern borders.
An armistice agreement to a cease-fire in 1949 ended the conflict, and, although the odds were against them, Israel was officially positioned as an independent state.
English tours are done if a large enough group attends, so I'd recommend showing up on a busy day of the week if you're looking for an English-speaking guide.
Despite what you may see in the media, Israel is perfectly safe. I'm not saying you should take a trip to the Gaza Strip – but if you stay in the right places, you'll be fine.

I feel safer in Israel than I do in most American cities, to be completely honest with you. If you're still a bit worried, maybe consider getting some travel insurance – it's never a bad idea no matter where you're going!
3. The Dead Sea
The Dead Sea south east of Jerusalem is thousands of meters below sea level, making it the lowest point on Earth's surface.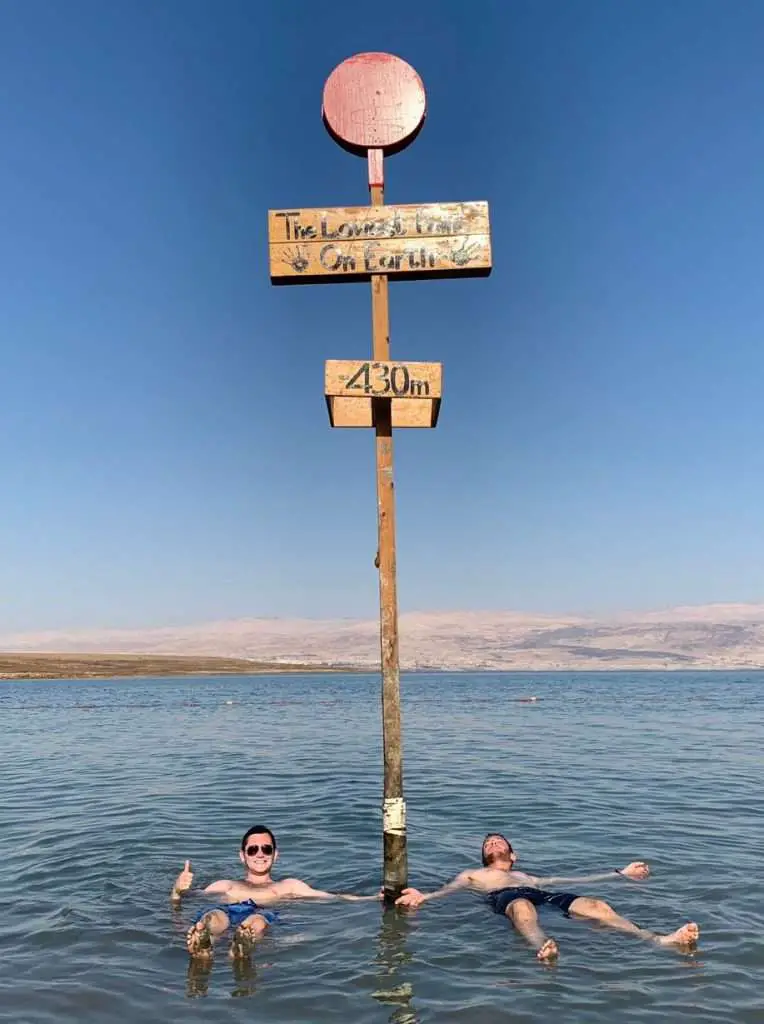 Don't let the name fool you though, although the salt content of the Dead Sea is too high to sustain any natural life, you can still feel alive while floating on the surface.
If you've ever heard of an isolation tank, it's pretty much the same premise without spending $50 every 30 minutes. The sodium levels are so high that the water keeps people afloat, and it's really good for your skin, too.
You can reach the Dead Sea by bus from Jerusalem, and Jordan is within sight from the other side.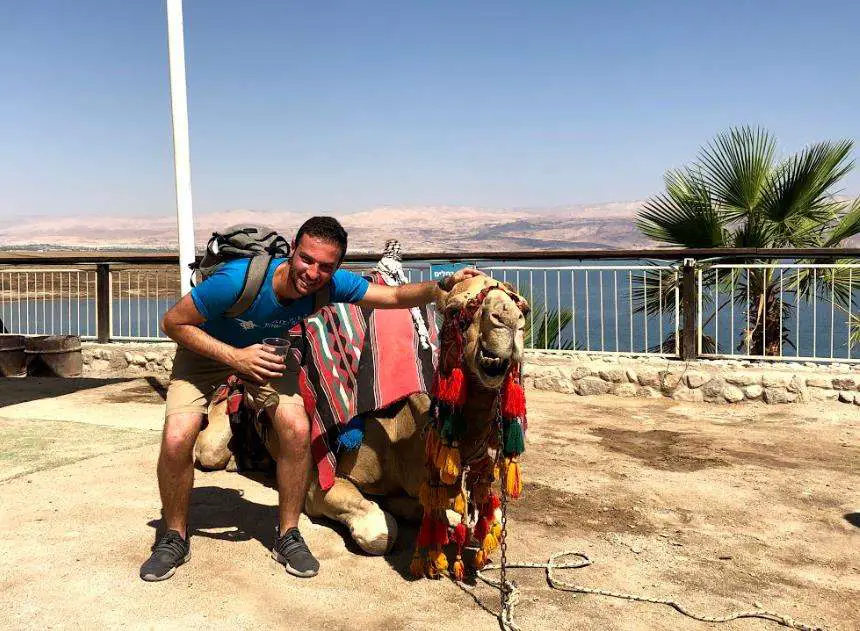 Floating atop the surface of a natural water source is something you can't do anywhere else, making it a must-do in Israel. Masada is close by as well, so I'd recommend using the short distance to check that out from here.
Oh, and while you're in the area, you should definitely pay a visit to the lowest bar on earth!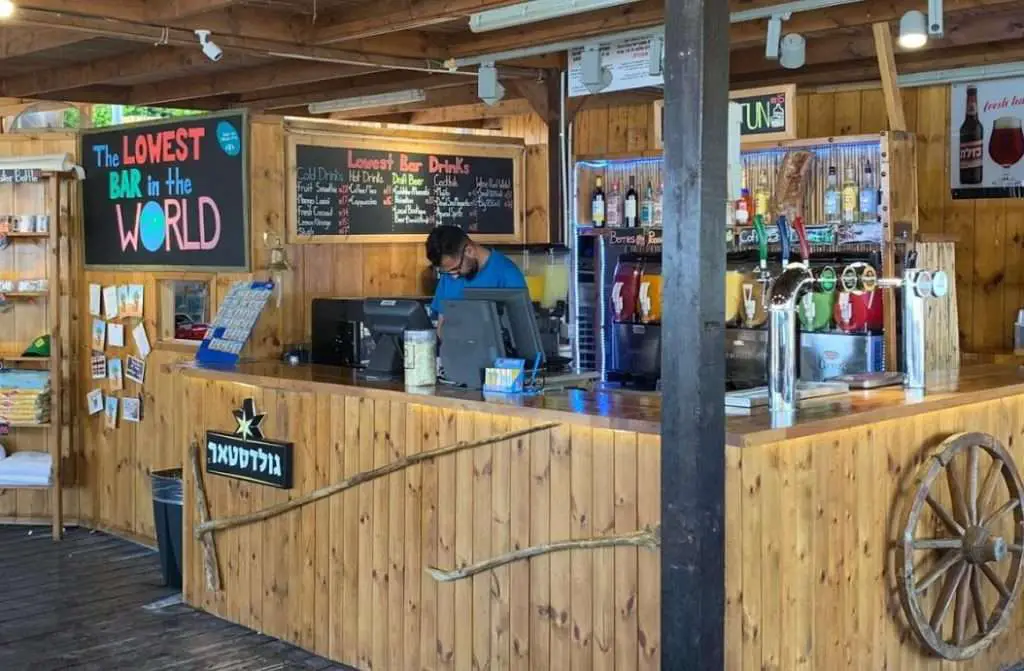 4. Taste the Food
Israel is home to some of the best food you can taste, as everything is grown or raised locally.
Hummus & Tahini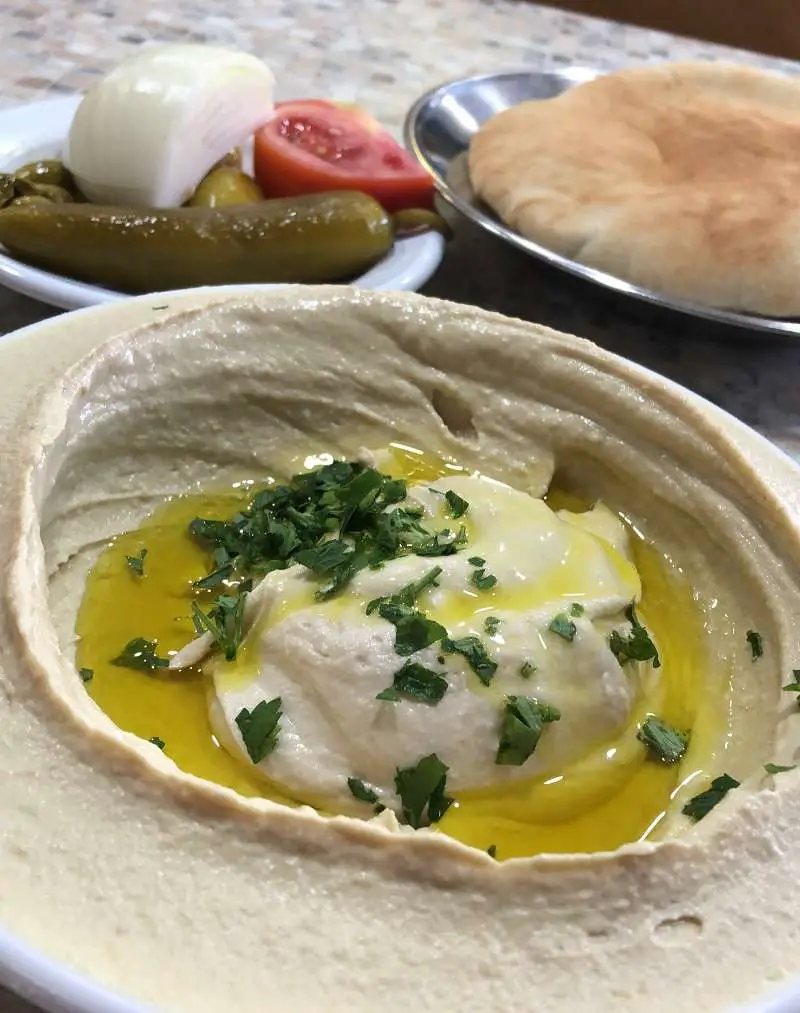 Made fresh every day, Israeli hummus is arguably good enough to eat by-the-spoon.
Confession time: I'd regularly cut up an onion and just eat that with a bowl of hummus.
Don't knock it before you try it!
Adding tahini thickens the hummus, and overall makes it worth eating daily.
Most people enjoy their hummus with freshly baked pita bread. It's a delicious snack or meal, depending on how much you'd like to eat.
Shawarma
Israeli shawarma is fresh and usually made from dark turkey layered with lamb fat.
This stuff is so tasty. I've had shawarma in 6 different countries, but due to the high-quality local ingredients in addition to the spices in the meat, Israel has the best by far!
Falafel
Falafel can be found anywhere, but the place to really experience these fried balls of goodness is Israel.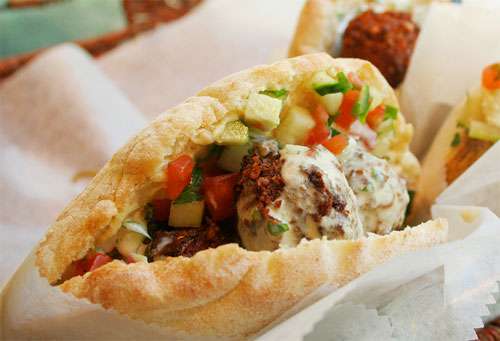 Even if you've had Falafel before, give it another try in Israel because you haven't had it until you've tried Israeli falafel!
Delicious Burgers – Vitrina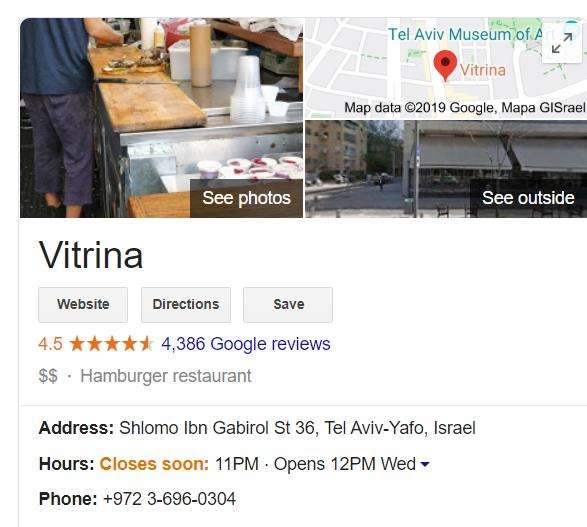 This one may sound surprising, but the best burger of my life was actually in Israel.
Now, I consider myself something of a burger connoisseur, so I was baffled at the quality of these burgers in Tel Aviv.
It's really all in the level of freshness in both the meat and other ingredients. Everything is sourced locally, so these burgers are seriously on another level.
If you want the best burger in Israel, I highly recommend you check out Vitrina in Tel Aviv. The quality of the meat is amazing, and they use some insane toppings that work together beautifully. Even their fries are to die for!
5. Scuba Diving
Because of the high temperatures and clear blue water, Israel is famous for its great scuba diving.
Aside from the insane heat, the underwater world of Israel alone is enough reason to visit.
Eilat – Reefs and Sunken Ships
Scuba diving in Eilat is the best way to explore coral reefs and interact with wildlife.
But, what if I told you that Israel sunk a ship just for you to explore?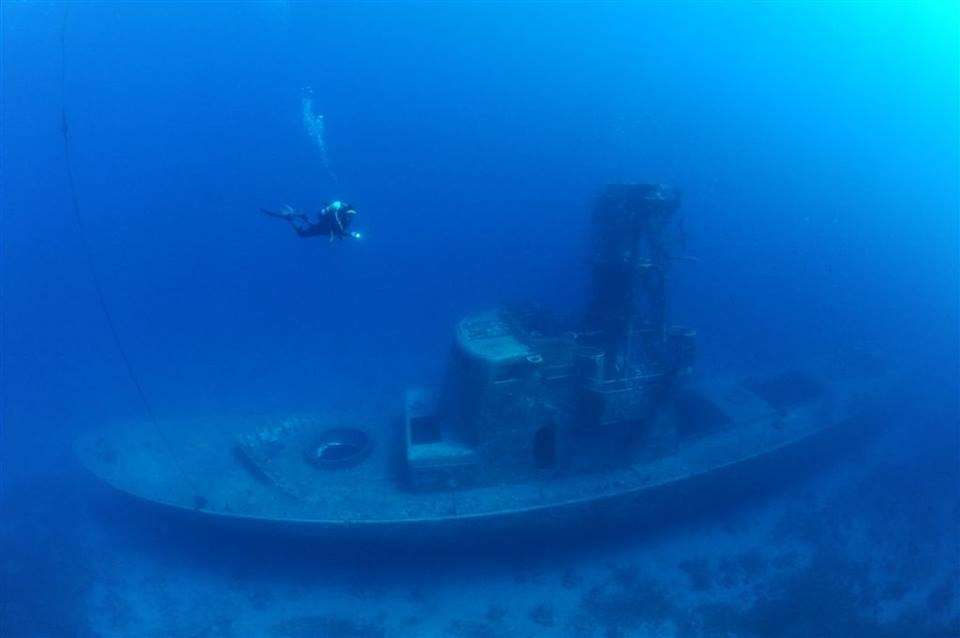 It's a pretty crazy story actually, here's the brief rundown:
So, in 1969 Israel had paid to have thirteen missile ships made and delivered from France.
However, because of diplomatic tensions, France placed an embargo on Israel and refused to give up these boats-of-war that Israel had already bought.
Israel's response?
They launched a special operations mission to steal them, of course!
Israeli Mossad operatives infiltrated the shipyard and made off with six of the thirteen boats. If that isn't crazy enough, though, fast forward to the 1990s. These boats are well past their prime, and Israel really had no use for them anymore.
While most of the boats were either deconstructed or placed in museums, one was purposely sunk so that scuba divers can explore the battle-vessel! The ship is located off the coast of Nahariya, in Northern Israel (near Tel Aviv).
This ship was called Satil, and the wreckage of Satil should be on your list of things to see in Israel.
6. Cliff Jumping in Akko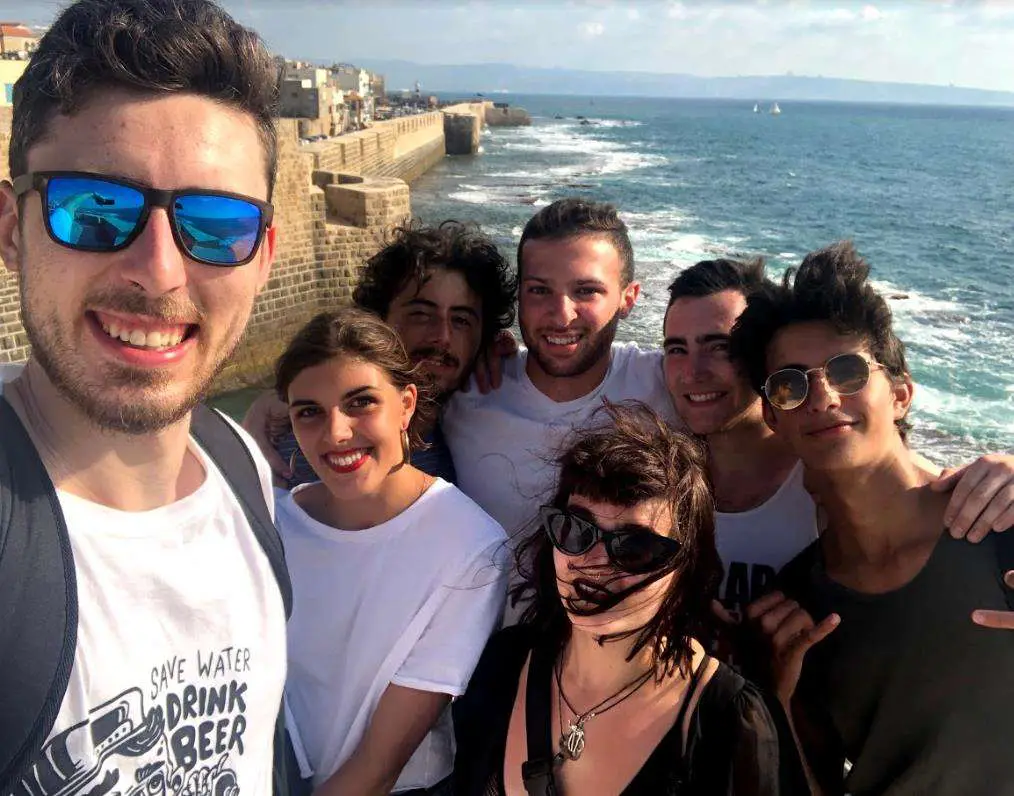 Akko is the oldest city in Israel, right along the coast.
A very Muslim city, Akko is home to templar churches, historic Spanish invasions, and open markets for you to haggle for goods. I managed to buy a whole watermelon for fifty cents while shopping around.
A notable part of the city for me was the ancient walls. In fact, there's one wall facing the ocean that you can jump right into!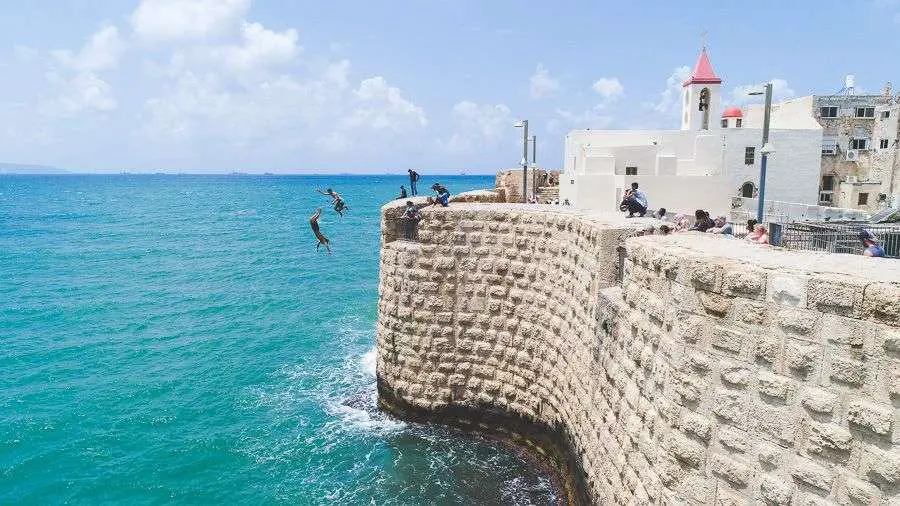 It takes a bit of bravery or stupidity, but if you have either or both, the 15-meter leap is a ton of fun. Just make sure you land feet first and watch out for rocks below.
7. Open Markets
Speaking of open markets, there are two that you need to check out if you're visiting.
Shooks are the best places to go for cheap goods. You can really find anything here from spices, food, clothes or pottery.  Plus, most goods are made in town by local merchants.
Ben Yehuda Market – Tel Aviv
Also called "The Shuk", Ben Yehuda is the giant market of Tel Aviv.
This place has over 250 vendors selling fruits, vegetables, clothes, and tons more.
Mahane Yehuda – Jerusalem
The most famous market in Israel, Mahane Yehuda is a bazaar with the most diverse goods in the country.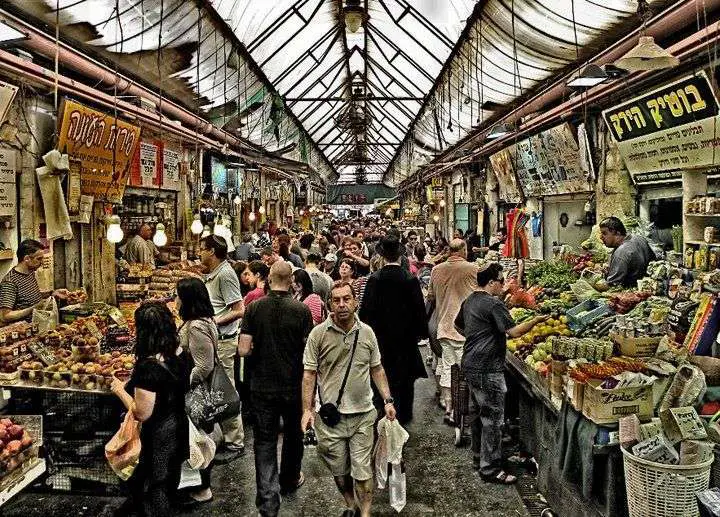 Also, Mahane Yehuda is where I had the most delicious food I've ever had. It's called Malawach and is a traditional Yemeni recipe. It was brought to Israel by Yeminite Jews. This stuff smacks hard. I'd sit on a plane for 9 hours again trying (and failing miserably) to sleep on my travel pillow again just to taste this once more.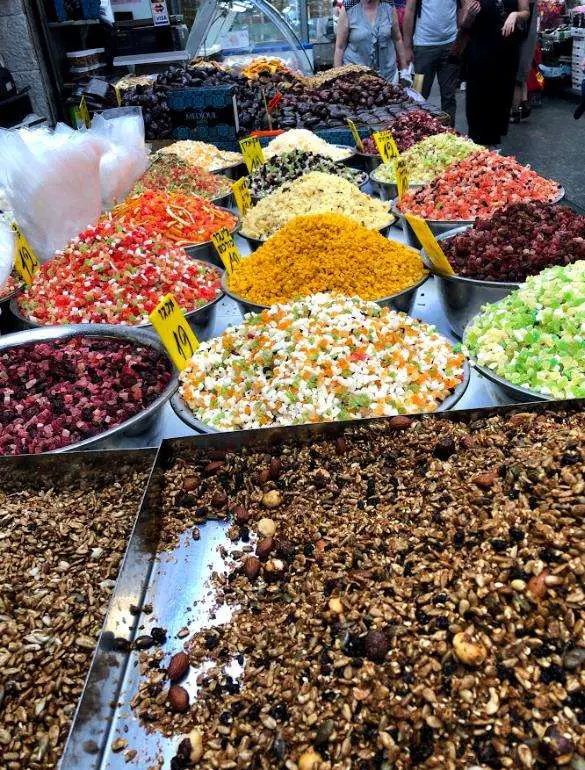 If you're in Jerusalem, visit Jahnun Bar in the shook. It's where I always go when I'm in Jerusalem for delicious Malawach. I still consider it the most delicious food I've ever had.
8. Nightlife in Tel Aviv
Constantly buzzing with a crazy good time, Tel Aviv's nightlife is ridiculous.
Tel Aviv is like London or New York City in the Middle East, except it's along a beautiful beach!
It's one of the biggest tech cities in the world – after all, Israel is known as The Startup Nation due to all of the revolutionary companies that were founded by Israeli minds.
Tel Aviv is a bustling business center by day and a non-stop party by night. After everyone packs up their laptops and leaves the office or coworking space, many head to some of Tel Aviv's best bars and clubs.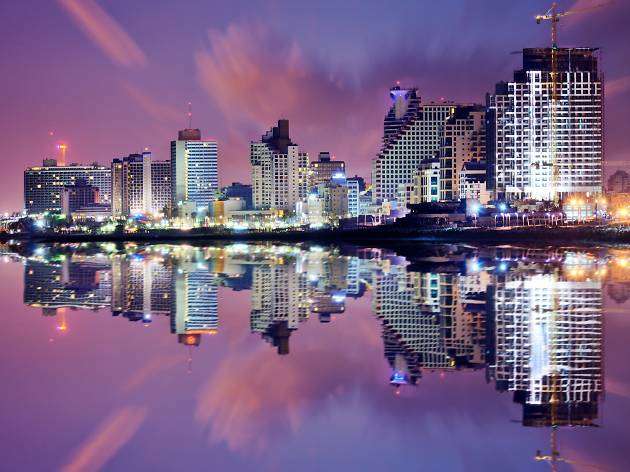 Haifa is a ton of fun as well, but Tel Aviv is really on another level.
Although expensive, Rothschild Boulevard is lined with bars and clubs that are comparable to LA. There are tons of alternative streets if you're balling on less of a budget, though!
The drinking age in Israel is 18, and the party never stops. Tel Aviv is the best place to spend your day at the beach before grabbing a shower and hitting some bars or clubs at night.
Because Israel is a generally religious area, Tel Aviv is the only places you should expect to bar-hop or nightclub until morning, any day of the week. Haifa has some good bars too, but they're only good on the weekends.
Enjoy your trip!