The Travel Bug Interview with Morgan Burrett
The Travel Bug called Morgan Burrett Talks!
Hey there Travel Tart readers, today I've scored an interview with Morgan Burrett, who is the host of the popular TV show The Travel Bug.
Morgan stays in front of the camera for this informative program which follows his trips around the world.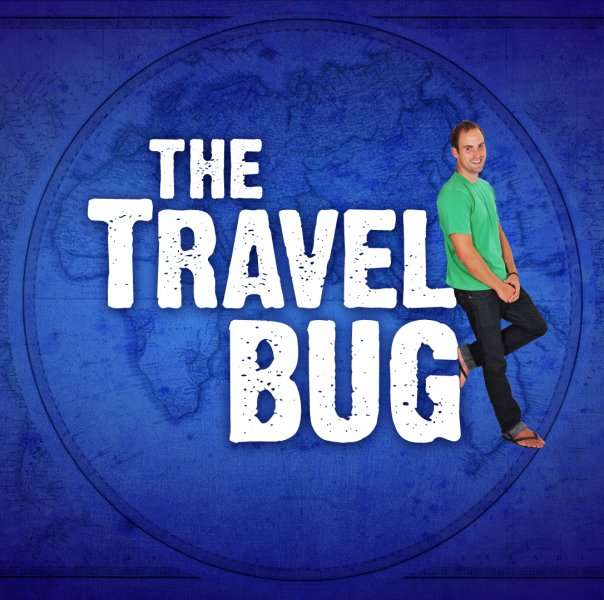 He's managed to wrench himself away from his travels on The Travel Bug to have a chat to me about his cool job of being a travel television presenter, and I'm keen to pick his brains about it!
Here it is!
The Travel Bug Interview
The Travel Tart: Hi Morgan, thanks for the opportunity to chat. I thought Google knew everything, but I was really scraping to find out anything about you on the internet! I know you as the host of The Travel Bug, but can you tell everyone more about yourself?
Morgan Burrett: Well, to be honest there's not much to say! I grew up in New Zealand and as you probably know, it's a pretty small country that's about as far away from the rest of the world as you can get. But it's an amazing place to grow up. You end up spending your time outdoors doing things like hiking and surfing. The scenery is incredible and the people have a great sense of pride about being New Zealanders. Though eventually I got the itch to travel and went to the US before eventually finding my way to Australia. And now I've lived on the northern beaches near Sydney for the last 8 years.
The Travel Tart: Ok, it seems you have a really cool travel TV presenting gig with The Travel Bug – how the hell did you score it? I've done some stuff for online purposes with a TV crew, and it's amazing how they can make something really good based on the amount of takes I had to do because of my stuff ups! Any tips for all of us out there who might be keen to give this a crack?
Morgan Burrett: I actually started out as a cameraman, but as luck would have it I met the producers of The Travel Bug on another shoot and we got along really well. Then one day I was booked in to film something for them and the host ended up not being able to do the job. So I ended up being both in front and behind the camera….if that makes any sense! Six months later I was the presenter of The Travel Bug. It really came about because I was willing to give anything a go. When the opportunity was presented to me to take the plunge and walk away from being a cameraman to give being a host a go, I took it, even though I was pretty bad at it in the beginning.
The Travel Tart: When I interviewed Asha Gill, she mentioned that she first scored a travel presenting gig from an audition relating to a product to treat haemaorrhoids, which I thought redefined the term 'pulling something out of one's arse'. Is travel TV presenting really something done better on an ad lib basis, or do you go into a program with a well defined structure with The Travel Bug?
Morgan Burrett: The Travel Bug is pretty ad lib. We do a lot of planning when it comes to the where and when of a trip, but it's the unexpected things we come across that tend to be what we focus on. I also find it a lot easier and more natural to do things on the spot rather than have a pre-planned script to follow. Though there are times when I need a hand with getting the right words to describe something or when I have to get some facts and figures from someone.
The Travel Tart: How often are you out and about on the road with The Travel Bug? Does it get a bit tiring after a while?
Morgan Burrett: I generally spend around 120 days a year away with The Travel Bug. Then there's a couple of trips home to see the family and the occasional holiday or weekend away. Travelling for the show is a lot of fun, but it gets really tiring. We do a lot in such a small amount of time that I often lose track of things. You wake up before sunrise, work until after dark, then arrive at a hotel and fall asleep. That's basically how the days pass with the show. Don't get me wrong, I love it! But it's a lot harder than most people realize.
The Travel Tart: From what I can gather, you come from New Zealand? I love Kiwi slang, such as chilly bin (cooler box), handle the jandal (he/she can handle it), and choice (that's excellent!). What's your favourite, and please provide a definition. The more politically incorrect, the better!
Morgan Burrett: My favourite is actually chilly bin. I think it's such a funny but perfect way to describe a cooler box! But another I like is 'Munted'. It's a word we use to describe something that's broken.
The Travel Tart: What's the worst food you have had to consume on The Travel Bug? Was that part of a crew dare, or was that something of your own undertaking!
Morgan Burrett: The guys love to see me squirming and eating weird food or doing things that they probably would never do themselves. But I'm one for giving anything a go, and the stranger the food the better. I've eaten sea snake soup in Okinawa and 2-foot long worms in the Philippines, but the worst thing I've had to consume would have to be a chickens foetus in China. You peel an egg and inside is a partly formed chicken. Then you chow down on it like a snack. It tasted, well, like chicken. But had a horrible texture, kind of a mix of crunchy in some parts and then soft and chewy in others.
The Travel Tart: Ah yes, a bit like Balut from the Philippines! Did this food actually make you catch an undesirable bug that left you sitting on the toilet for an extended period of time?

Morgan Burrett: It didn't give me a bug, but it did give me nightmares. Every time I have a boiled egg or crack one to make an omelet I'm reminded of it.
The Travel Tart: Ha ha, I can imagine you seeing the egg saying 'Don't eat me Morgan!' Anyway, how many countries have you visited so far? And where haven't you been that you would like to go to?
Morgan Burrett: I've been to so many places I've lost count! And some of the places I've been to we have been so busy there that I don't really consider I've experienced them properly. The list of destinations I'd love to visit includes Russia, Iceland and Galapagos. But at the top would be Antarctica. It's so different to anywhere else on the planet and I really want to see it before the caps melt too much.
The Travel Tart: Finally, where did you catch The Travel Bug, pardon the pun?
Morgan Burrett: I caught it when I was growing up in New Zealand. I remember seeing the world on TV and thinking to myself that all I want to do is travel and experience as much as I can. Then when I discovered how diverse and beautiful the planet was I couldn't get enough of travelling, even if it meant earning little and living out of a suitcase for weeks on end. It is such an addictive thing and once you've had a taste you can't get enough!
The Travel Tart: Good luck with future episodes with The Travel Bug!
Other Silly Posts: