The Welsh Language – Sounds Like I'm Trying To Spit On Someone!
Today is the first day of the Welsh Travel Blogging Junket and I'm in Cardiff, the capital, largest city and most populous county of Wales (see Visit Cardiff) to undertake a half day course to learn the Welsh Language.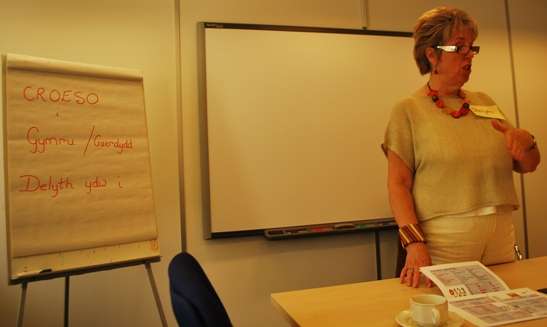 God bless them – the Welsh have been stubborn enough to annoy the English for so long, that they've kept their heritage alive by still practicing this somewhat difficult language. Welsh has been in existence since the 9th century, and it's undertaking somewhat of a resurgence amongst younger people – who want to keep their culture and identity going, so good on them. About 25% of people speak Welsh in Wales, and it's particularly spoken in rural areas.
I need a big Welsh Language Translation!
I had a crack at learning some Welsh, and made a complete dog's breakfast (this is slang for a 'mess') out of it.  I'm glad there was someone there to provide a Welsh Language Translation for me – as now I know what it must feel like to have locked in syndrome. The only word of Welsh I seem to remember is cwru (pronounced curro), which means beer. But I know the word 'beer' in every place I go to, because I need beer for my travel survival mechanisms.
Actually, this is how you order beer (or cwru) in Welsh – you'll see what I mean about it being so difficult!
[youtube]http://www.youtube.com/watch?v=30OwBWtxTZE[/youtube]
If you're keen, print off this conversation below on how to have a conversation in Welsh about beer in a Cardiff pub!

For this post, I have to somehow teach you some basic Welsh, and then you have to leave a comment using at least two Welsh words using Google Translate to show me your Welsh Language Translation. That's probably two words better than I can manage at the moment.
Normally, I'm not too bad at learning another language – I know a bit of Spanish to get by in South American countries, which have opened up a lot of new experiences for me. But trying to learn Welsh was bit like trying to talk underwater with a mouthful of concrete whilst trying not to let my projectile saliva hit some of my fellow travel bloggers.
Here goes – some of the words I learnt include the following:

Other things we learnt was one of the world's longest town names: Llanfairpwllgwyngyllgogerychwyrndrobwllllantysiliogogogoch.
I would say the Llanfairpwllgwyngyllgogerychwyrndrobwllllantysiliogogogoch sign is bigger than the actual town itself. It literally means "The church of St. Mary in the hollow of white hazel trees near the rapid whirlpool by St. Tysilio's of the red cave".
What's even more ridiculous, there is a website called . I hope your computer has widescreen.
I'm just wondering who the hell would type that into Google?
More Welsh Language Translation Stuff
So there you go – have a crack at a Welsh Language Translation, and use Google Translate to do it. Leave a comment below with at least two Welsh words!
You know what? Even if you left some profanities in Welsh, I couldn't tell because I can't even understand normal Welsh words!
Anyway, leaving a comment will get you in for practicing to win a Flip Mini HD! So comment away!