Tea Party – Literally!
Check out this video from the Shangri-la Hotel in Dubai. It takes the term 'Tea Party' to a whole new level.
I shot it there on a junket throughout Dubai, and I was lucky enough to be put up in this rather flash establishment, considering how many dodgy places I've stayed in during my time as a tight arse traveller. Hey, the universe had to even itself out sometime!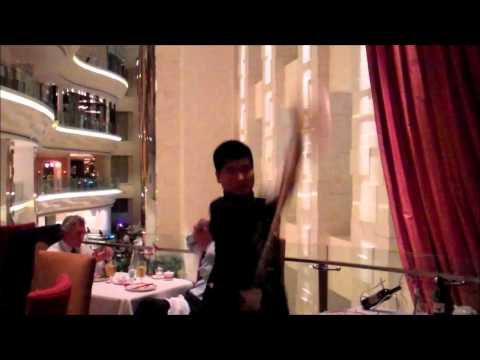 I like going around and trying the unusual food and drinks that are in this world (see my list of 52 Weird Food and Drinks here). I'm also used to seeing strange drinks like Frog Juice and Tea With Egg. But I've never quite come across this strange, but really cool tea shaking, mixing and pouring technique to finish off a great night of pigging out on some great food.
Tea Party Video!
Check it out! I can't believe how quickly this guy is swirling his strange looking pot around.
[youtube]http://www.youtube.com/watch?v=FslpAgEjlN4[/youtube]
Anyway, if you are a tea aficionado, check out The Book of Tea.