Salar Uyuni Free Enterprise!
Salar Uyuni – is a mighty impressive Salt Pan at high altitude in Bolivia.
There is a standard trip on the Salar Uyunithat takes around 3-4 days, taking in a ton of amazing sights you won't see anywhere else. For example, check this out: Bus Driving Through the Ethereal Landscape of the Salar De Uyuni, Bolivia.

The Wild Junket travel blog recently featured an interesting post about the Salar Uyuni.
Salar Uyuni Business Skills!
Anyway, an abosrbing part of the trip is how locals produce salt.  This is not an especially difficult or fascinating process, but I found how the locals make a living from the salt pan an important lesson of being an entrepreneur.

Check out the photo of this man below.  He makes his living out of digging salt out of the Salar Uyuni salt pan.
Or so I thought.

He has a fantastic grasp of mathematics and business sense.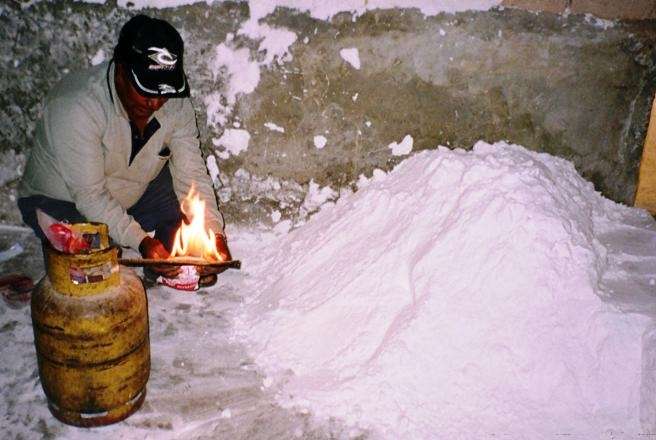 Why do I think that?
Well, salt has a market price of $USD1 per 50 kilogram bag (or over 100 pounds) – which would be enough to give your entire family hypertension.
However, this salt maker charges $USD1 per tourist to show them how salt is made, and how he doesn't manage to blow up his gas bottle, himself, and everyone else when he tries to seal a bag of salt with heat.
Considering there are usually 6 tourists per group, and scores of tourists passing through per day, he would make magnitudes more money from showing tourists how to make salt, then from actually producing it and selling it alone.

I figured I could apply his maths to somehow to get rich and create some dodgy pyramid scheme, so I could become a Professional Backpacker!
Salar Uyuni – Long Term Business Prospects
He has a pretty sustinable business plan – somehow, I don't think he's going to run out of salt at the Salar Uyuni any time soon…

Other things to do in Bolivia after seeing the Salar Uyuni Salt Pan – check out the Day Of The Dead and cycle down The World's Most Dangerous Road.
Check out more at An Insider's Guide to Bolivia.