Plastic Food Displays – At Least You Know What You're About To Eat!
This is something quite clever that I discovered on a  G Adventures trip to Japan. Many of the restaurants in the big cities have large Plastic Food Displays outside of their restaurant which shows what you can expect if you walk into the joint.
However, for foreigners like myself (or gaijin in Japanese), these Plastic Food Displays are very useful for ordering something off the menu, especially if you know sod all Japanese.
The Plastic Food Display Photo
Check out this restaurant where you can literally 'see' the entire menu via numerous Plastic Food Displays. Looks almost good enough to eat! And I know they serve beer!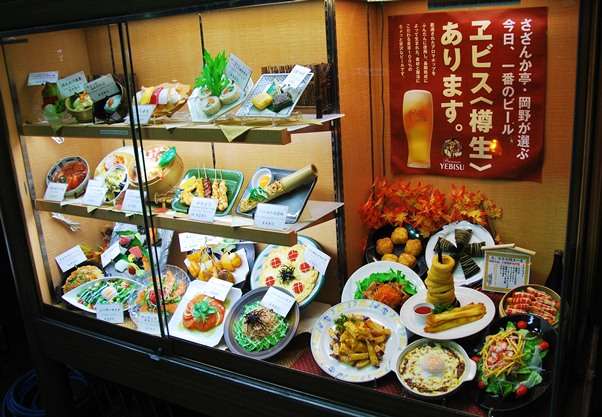 If found these Plastic Food Displays brilliant, because as soon as I walked into a local restaurant, I would walk outside with the waiter/waitress and just point to what I wanted. And because these displays were fairly realistic, I knew what I was getting – such as beef, chicken, fish or noodles.
Too easy!
This is way better than a method I used in Kazakhstan a few years back. I went to a restaurant with a few other English speakers that didn't speak Russian or Kazakh. The menu was indecipherable because it was written in Cyrillic, not Roman script. No one at the restaurant could speak English, so I was forced to make animal sounds to order something resembling what I wanted (hopefully without making it sound like a mating call!).
I decided to have some lamb, so I made a 'bah bah sound'. I think I ended up with goat ribs!
But in Japan, you can just go outside and point to the Plastic Food Display you want, and you're guaranteed to get what you ask for! In fact, you can visit places that actually sell these things!
More Plastic Food Display Information
If you now have a fetish for some Plastic Food Displays, check out Fruit and Vegetable Basket: Pretend Play Toy Foods for Children's Kitchen.