Health Worker – Funny Photo, Makes You Wonder!
Health Workers. In the western world, we take them for granted. Most of us are lucky to roll up to a doctor in fairly quick time.  However, in Africa, one would be lucky to find a Health Worker after a few days walk.
Having said that, one thing that I find fascinating about travel in general are signs.  Signs are usually produced for a reason, and they sometimes range from the quite useful, the painfully obvious, to the downright bizarre.  An example of this is the Sand Sign in Namibia.  Another one I've come across is the 'Highjacking Hotspot' signs placed at some motorway off ramps in Johannesburg, South Africa.
However, I spotted a sign in mid-2008, which is a cracker!  I took this photo at a hospital in Malawi, located in Livingstonia, a former mission town set up in the late 1800s.  The main reason for Livingstonia's existence is that it's set at altitude, which means fewer mosquitos, and hence, malaria.  Since missionaries were tired of dying of malaria, Livingstonia was a perfect location for another dot to be created within the British Empire.
Health Worker – Only Funny Because It's True?
However, malaria may not be a leading cause of death for Health Workers anymore, based on this sign: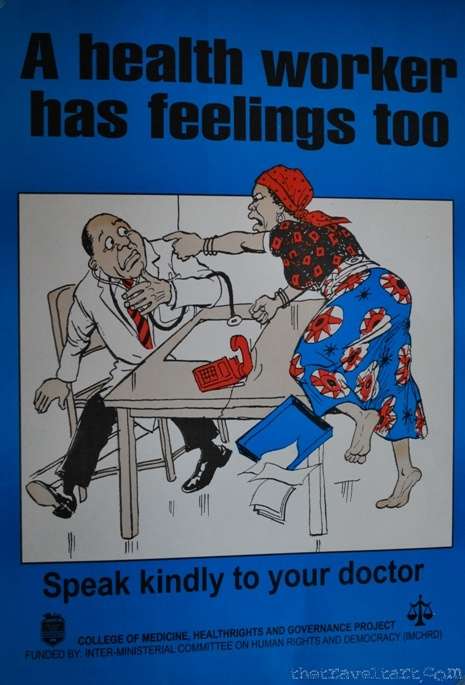 I'm not sure of the exact reason behind producing this sign for Health Workers, but I'm guessing it relates to a patient's bedside manner and not the doctor's!
Actually, my photo eventually appeared in Weird World (Bradt Guides).
More Health Worker Stuff!
When in Africa, you can also check out another kind of African Doctor, or see what women have to put up with during Child Birth.
See more at Africa: A Practical Guide for Global Health Workers, and Helping Health Workers Learn: A Book of Methods, Aids, and Ideas for Instructors at the Village Level.
Anyway, think of this sign the next time you visit a Health Worker!
More Malawi stuff