Globe Trekker Goodies!
Globe Trekker has recently released their Year Book – a small pocket guide to a truckload of events around the world with month by month Travel Tips – many of them sourced from their TV shows.
Actually, Globe Trekker produces a lot of great travel shows and books like Pilot Guides that keep feeding my travel addiction.   I've been watching Pilot Guides for years and it would be great to score a job there one day (hint hint!). Globe Trekker's World: What's On in the World . . . and When is an example.
Anyway, the very nice Helen from Globe Trekker sent me a copy of this great little book to review.
So keep reading, and you can win a copy!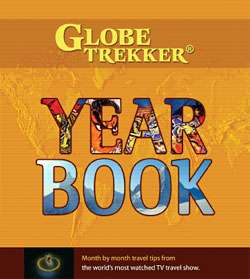 The Short Version: If you have the attention span of a goldfish, the one sentence review is that the Globe Trekker Year Book is a small, pocket sized publication listing a lot of events, places to see, and useful websites in a month by month layout.
Here is the more detailed version:
The Globe Trekker Year Book is small, Travel Tips guide of about 100 pages.  It's pretty compact, and here is a photo of the book placed next to my passport: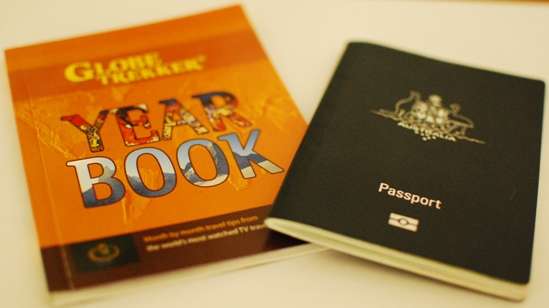 Each month is neatly laid out over a number of sections, in a consistent format.
For example, each month contains the following sections:
A brief introduction to what happens around the world during the particular month.
A list of public holidays around the world.
'Party The Planet' – a list of events, festivals and other celebrations.
'The Great Outdoors' – a list of natural attractions that are great to experience at that particular month.
'Sun, Sea and Sand' – things to do that involve water that would entice anyone to leave their winterey abode.
Useful Websites – a list of websites relating to the events mentioned in the other sections.
'A Taste Of..' – one recipe that is featured from a place mentioned in that particular month.
You can flick to the month of your potential travel plans and see what's going on in the world.
What the Globe Trekker Year Book is great for is the initial inspiration of ideas of where to travel so you can do some further research later on.  It's a good first port of call when one thinks 'OK, I'm taking this time to go travelling, where can I go to?'.
It's not meant to be a detailed travel guide, and doesn't pretend to be either.
There is also some other useful information there, such as country telephone codes, a world timezone map and a list of Globe Trekker TV programs by region.
In summary:
What the Globe Trekker Year Book is: It's great for initial travel ideas of where and when to go.
What the Globe Trekker Year Book is not: An in-depth guide.  You need to go to other sources to find out more information. Otherwise the book would be as big as your backpack.
So check it out (you can view a PDF sample of the book here), and there's more stuff at the Globe Trekker TV and Globe Trekker store website.
Also, you can WIN A COPY of the Globe Trekker Year Book thanks to Globe Trekker!
All you need to do is leave a comment below, and I will randomly select one of them to be the winner!  Comments close at 12pm, Australian Eastern Standard Time on Monday 25 January 2010, which is GMT + 10 hours.
Here is a world clock to work out what time that is in your region.
Comment away, and the Globe Trekker Year Book could be yours!