Yay! COVID-19 has screwed up the entire world, meaning that many of us have to wear face masks in public to minimise the chance of being infected by the coronavirus.
This disease is a bit of a lottery – some people are completely fine and have no symptoms, whilst for others, it means a premature exit from the planet. For me, I don't want to catch it so I'm avoiding people like the plague at the moment… Boom Boom.
A mixture of social distancing, washing or sanitising your hands regularly, and covering up your mouth and nose have been recommended strategies to reduce the chance of transmission based on the level of risk in your area. A great tool to see global cases is the Bing COVID tracker. Check it out, it's an eye opener!
But anyway, if you need a face mask, you may as well get hold of a funny one because 2020 is a bit of a joke. Check out my list of Funny Face Masks For Sale On Amazon! And try not to laugh when you see something like this: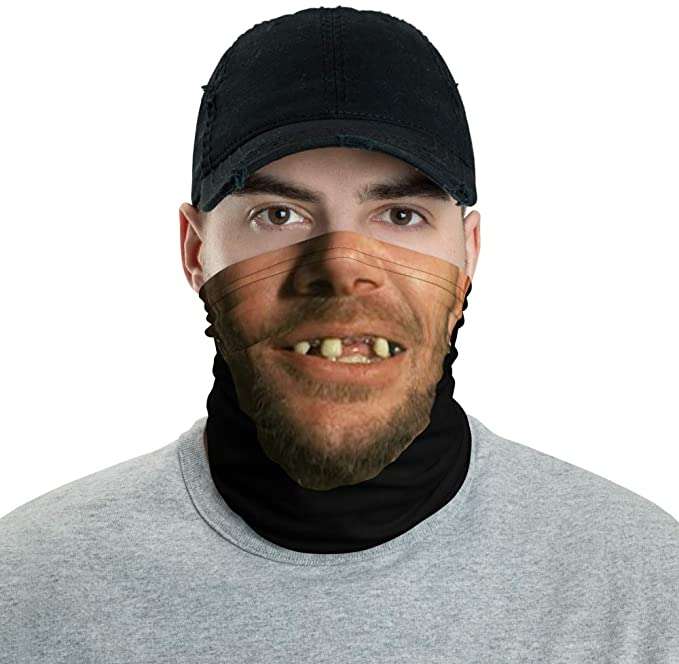 5 Funny Face Masks For Sale On Amazon!
I can't vouch for the quality, but hey, you'll make people laugh when you're out and out when not in lockdown!
1. The Tiger King Face Mask
You've binge watched The Tiger King
on Netflix, now you can wear the John Finlay mask out in public to freak people out!
Complete with bonus missing teeth!
2. The 2020 Review Face Mask
I'm sure we're all over 2020 by now and we'd like to reboot it like our computer, because it has a virus…
3. The Multiple Expressions Face Mask
Want to wear a face mask that reflects your current mood? Then choose one that reflects that! From sticking out your tongue to a crooked smile, you can also photo bomb someone else's selfie!
Let me know if you have any cool reactions to this one!
4. The Social Distancing Face Mask!
Social distancing must be the most used word of the year. If you want to try and enforce this a bit more, wear this face mask:
5. The OK Karen Face Masks
I really, really feel for the people called Karen out there since this new slang term came about, which more or less means a self entitled middle aged woman. But you can still have fun at their expense…
But Wait, There's More!
It looks like this pandemic has automatically created a number of new profitable niche markets, included funny face masks!
To look at hundreds of them at your leisure, check out the Funny Face Masks For Sale On Amazon
!
Hey, you probably don't have anything else better to do during lockdown!