Shop Tibet – If You Know What This Means!
Today I have a bizarre travel photo from Urte from Ciaourte.com. You can follow her on Twitter @ciaourte.
It's of  a Weird Information Sign that's completely indecipherable!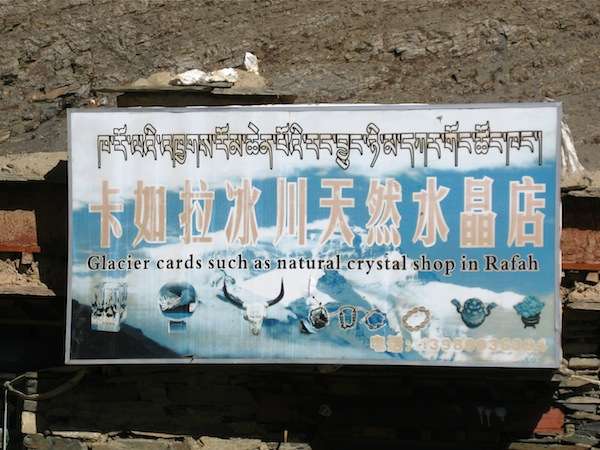 What the hell does 'Glacier cards such as natural crystal shop in Rafah' mean?
The Shop Tibet Explanation?
Anyway, Urte says 'On our overland tour running from Kathmandu to Lhasa, we stopped by the middle-of-nowhere Nojin Kangtsang Glacier. Other than a small camp of Tibetans that pose for passerby, there was only an abandoned building with this perplexing sign. We still have no idea what it could possibly mean.'
Neither do I! Sounds like another case of Engrish!
More Shop Tibet Stuff
Not sure what this Shop Tibet sign meant, but see more at Tibet – Culture On The Edge.
Other Silly Posts!