Adventure Travel Interview with Cas and Jonesy
Adventure Travel the Extreme Way – the Cas and Jonesy Interview
Hi there Travel Tart readers. Today I've got an interview with a couple of truly adventurous travellers – Cas and Jonesy. These two guys are Australians who have done some crazy and intrepid Adventure Travel in their lifetimes (so far), which has included the world first unsupported kayak trip from Australia to New Zealand (3318 km over 62 days), and more famously, in early 2012, they made history by completing the longest unsupported polar expedition of all time. That is, they were the first to have walked from the edge of Antarctica to the South Pole and back without assistance, and did it in 89 days after having skied 2275 km!
Their website says "We've kayaked a few oceans, climbed mountains and hit dirt tracks all round the world. We've been mates since we were kids in high school and have been lucky to have shared heaps of incredible experiences in the outdoors together."
However, they have just completed something rather sedentary by comparison, by undertaking a pub crawl by helicopter in the Northern Territory, travelling almost 400 km in about 5 hours. But that's more like adventure travel my style!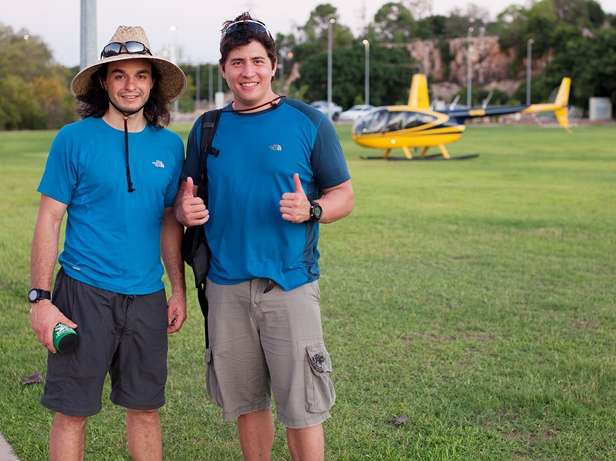 The outback locations visited included the following places:
Humpty Doo Hotel
Bark Hut Inn
Litchfield Hotel
Adelaide River
Lake Bennett Resort
Point Stuart Wilderness Lodge
Wildman Wilderness Lodge
Darwin SKYCITY Casino swim-up bar
You can follow @casandjonesy on Twitter and Facebook. Also see more at Top End Time Out!
The Cas and Jonesy Adventure Travel Chat!
The Travel Tart: Hi Guys, thanks for the time to chat. Firstly, I've got a gripe with you 2 blokes. I really like beer, and I've got my own beer index that measures the affordability of a country by it's beer in a price per litre. Where was my gig to go on the pub crawl? Surely you could have invited a travel blogger to document the trip! Sounds like an awesome junket to me! ;P
Jonesy: Mate! That is a serious oversight on our behalf…it sounds like you would have been a valuable asset to the team!
The Travel Tart: Just wondering about the practicalities of a pub crawl by helicopter. Were you guys and the pilot ever pulled over for a random alcohol breath test at all? Were any toilet stops required mid air?
Jonesy: It's going to be hard to go back to a regular style pub crawl…it feels like by chopper is the only way to go! Luckily our pilots were pretty focused on just flying and less on sampling some of the bevvies in the pit stops…and no mid-air stops were needed, down in Antarctica we learnt how to hold on pretty well!
That said, in the Northern Territory, flying by chopper to these watering holes really gives you a true understanding of how "remote" these pubs are. One was accessible only via chopper or boat, because it was situated on an island in the middle of croc infested river!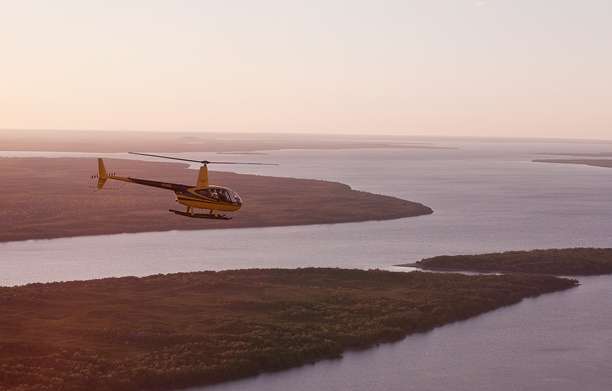 The Travel Tart: Back to the Adventure Travel. I'm guessing you two guys didn't really want to enter the corporate world. What possessed you to pursue a life of being adrenalin junkies?
Jonesy: I wouldn't say we're adrenaline junkies, more so we're just blokes that love the outdoors and taking on some big challenges in remote areas of the world! Ever since school we were into our bushwalking and from there the trips just ended up getting bigger and better!
The Travel Tart: I saw a documentary by Bruce Parry that recreated the early 1900s mission to the South Pole (and back) that was a race between Norway's Roald Amundsen and Great Britain's Robert Falcon Scott. History says Amundsen won because he used dogs, and Scott ended up perishing because they went the man hauling route. Was this in the back of your mind when you decided to go for a casual stroll to the South Pole?
Jonesy: You can't go down to Antarctica and not have an appreciation for the history of the continent and the harshness of the environment. I think coming back from our expedition we definitely have a better appreciation of what Scott and his men went through.
The Travel Tart: I remember in that documentary that the people recreating that trip had to use the same gear and eat the same stuff as they did in the 1900s. Which was pretty much a block of congealed lard with speckles of vegetables and protein that had to be melted down each night for dinner. Yummo. I can't imagine your ration packs would be making a Michelin Star restaurant any time soon, but what was your favourite meal on the South Pole trip?
Jonesy: Favourite meal was definitely our Roast Lamb dehydrated meal from Back Country Cuisine. Add to that a bit of dehydrated cheese and 100mls of olive oil…perfect. Heston Blumenthal watch out!
The Travel Tart: I'm guessing that these unsupported adventure travel trips that you take are just that – meaning that you can't just ask for someone to fly in a carton of beer so you can crack a cold one at the end of the day. Do you guys ever crave the amber ale when you're doing your major expeditions? I'd be having withdrawal symptoms almost immediately!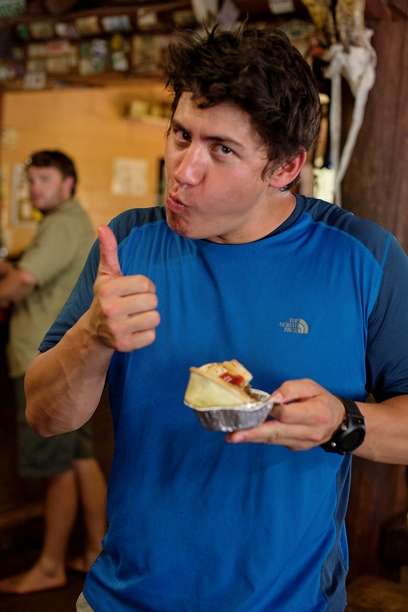 Cas: That's right! Everything we need to survive we start out with – food, fuel to melt snow for drinking water, tent, sleeping bag, spares. If something breaks we've gotta fix it. Essentially we're absolutely alone.
Jonesy: I've got to say down in Antarctica a cold beer wasn't highest on the list. Let's face it we were FREEZING ALREADY! More likely we wanted some warm at the end of each day! That said when we finished the entire journey and got back to civilisation it was a different story altogether!
The Travel Tart: When you guys come home from a major expedition to the familiar surroundings of home, do you ever get reverse culture shock? It must feel like a let down coming home, but you must be relieved that you're able to wear a fresh pair of underwear each day!
Cas: Yes, we've both in the past suffered what we call "post expedition depression". When you're on a long expedition your so focused on the one goal for so long that when you get home, it's difficult to adjust to taking out the garbage, hanging up the washing and just being normal for a while!
The Travel Tart: On your short paddle from Australia to New Zealand, what was the first thing you craved when you reached shore? Fush and chups by any chance?

Jonesy: MEAT!
Cas: Fresh fruit!
The Travel Tart: What's the next awesome/crazy adventure travel trip that you have planned?
Cas: Wouldn't you like to know! 3mths in Antarctica is a long time to think of a long list of cool expeditions. Having said that, we're keeping our next plans pretty close to our chest for the moment.
The Travel Tart: If it involves pub(s), make sure you let me know! I ask all my interviewees where was the time and place where you thought "hell yeah, I love this travel thing?"
Cas: On the Top End Time Out and our Top End Ten Tipple Challenge for sure!
The Travel Tart: Thanks for your time guys, and I hope that you don't burst your adrenal glands soon!
Cas and Jonesy: Thanks heaps!
Other Silly Posts: